Mice Dice Slots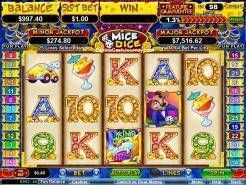 Current Jackpot
$1,942.02
Play Now
You'll love the fun theme of Mice Dice online slots as you look at a rag tag team of mice that are all trying to win big out in Vegas. As the player of this game it's up to you to try and win the best that you can, and that means going for huge combinations while risking some of your money in the process. The slot is colorful, it's got a couple cool bonuses and it pays out pretty well overall.
Huge Betting Opportunity
Players that decide to go with Mice Dice slots have good betting options to work with. Whether you want to bet small or you want to bet high, you can do just that with this slot. Bet as little as $.01 per spin of this colorful slot game, or up the ante all the way up to $250 per spin by raising your coin value up to $10 apiece. That will make things much more interesting and give you a shot at huge jackpot payouts as well.
Autoplay
This slot comes with an autoplay feature that allows you to set a certain number of reel turns and have the game play through them automatically. It's a handy feature that lets you gamble with ease without having to press the button every time yourself.
Seriously Good Free Spins
The Wild in Mice Dice is the Dice symbol itself and it can unlock a very lucrative free spin round, while also offering some exciting jackpot payouts. This wild symbol can give you up to 30 free spins with a multiplier as high as 12x. That's a huge potential boost to your game and could lead you to seriously good paying prizes overall. If you want to make the most of this slot game, you should hope that you get lucky enough to unlock the free spin round.
Random Jackpots
There are two random jackpots that are triggered at the end of some rounds of the game. There's a minor jackpot worth $250 and a major worth $1,000. Both are pretty good payouts and you can unlock them no matter what amount of money that you are betting. There's la good amount of money to be won from this slot game, and that's the real benefit of playing it. Even if you don't win too much prize money, you'll find yourself falling in love with the unique theme of this slot. It's a lot of fun and worth trying out at least once if you want to test out what it feels like to be a mouse gambling for riches.