White Rhino Slots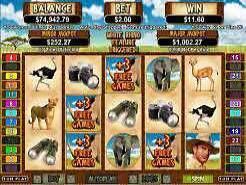 Current Jackpot
$1,003.91
Play Now
White Rhino is a cool safari themed slot game with rich graphics and a whole set of different symbols that appeal to gamblers. Spin the reels and turn up a bunch of exotic animals while you try to unlock some pretty sweet prizes. Even though this slot offers several features, it may or may not be the right slot game for you. Give it a try to find out.
Bet Anywhere You Like
With a massive betting range of a minimum of $0.01 and a maximum of $125.00 you have a whole world of betting options available to you. Choose the bet that you are most comfortable with and move forward with it. With so many different options to choose from it's simple to select a level that's comfortable for you the entire time.
Re-Spin Feature
Getting two or more of the Kilimanjaro symbols on the same line will hold the lines in place and re-spin them. This gives you a chance to set up another bonus feature by getting more of these scatter symbols. Each time you get another scatter you''ll be awarded with three more re-spins for a chance to trigger even more re-spins once again for a total of up to 5 scatters stacked up.
The Guide Bonus
Getting three or more of the Guide symbols on the reels will trigger the Guide bonus game. During this game you'll enjoy 10 free spins and the Rhino will be more powerful than ever. Any prize that's created with the White Rhino symbol will be tripled in value. If you manage to get four lady symbols as well as the rhino you could walk away with 30,000 coins in all.
The White Rhino Bonus
Finally there is the White Rhino bonus game. This is triggered by getting three White Rhino symbols on the central reels. You'll enjoy 3 free spins for each Rhino that you see, for a total of up to 30 free spins in all. This is a huge potential bonus if enough Rhinos show up, and could be a real game changer for a player that hasn't been winning much up until that point in the game.
Random Progressive Wins
There are two different random progressive jackpots in White Rhino. They trigger after a spin and there is no reason behind them triggering that we know of. These include a Minor Jackpot and a Major Jackpot. The minor jackpot begins at $250 and grows from there while the Major Jackpot begins at $1,000 and grows to much larger sizes. Each one is an exciting addition to your gaming session and you never know when they are going to trigger. White Rhino is a nice looking slot game with decent standard payouts and some nice bonus payouts as well. It has a total of five different features to look out for, which is more than enough to keep most players busy as they go through rounds of the slot game. Once you try it out you'll quickly see that this slot has a lot to offer.