Megasaur Slots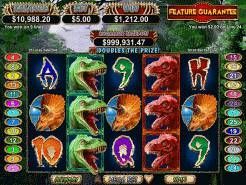 Current Jackpot
$1,061,741.16
Play Now
Megasaur is a high quality online dinosaur slot game that's themed after a massive dinosaur that's a predator over most standard dinosaurs that we are all familiar with. Besides having a beautiful backdrop and some very nice symbols, this online slot game is also packed with features. It offers one of the biggest progressive jackpot payouts that you can get online today, and it makes gambling online a whole lot of fun for anyone that enjoys slots. We decided to review the slot because of its huge progressive, and we found a bunch of other features as well.
Simple Betting Setup
There are three different wagers for players to choose from when playing Megasaur, Minor, Major and Mega. They are worth $1.25, $2.50 and $5.00, making them all quite affordable for lower stakes gamblers, but pretty low for high stakes players looking to bet big. Players are required to go with the Mega bet in order to qualify for the highest jackpot possible from the game.
Watch for Grouped Wilds
There are two different grouped wilds in Megasaur, making it easier than ever to unlock decent prize payouts. The Green and Red Megasaur symbols are both grouped and will show up on reels 2 and 4 with any luck. These symbols will come clustered so that you have many different chances to win prizes on multiple reels at once.
Volcano Scatter Bonus
The volcano symbol is the scatter in this online slot game and is responsible for triggering some very nice bonus payouts as well. When you get three or more scatter symbols you trigger the free spin bonus game for this slot. The moment that you trigger the bonus game you'll be tasked with choosing each scatter symbol that triggered the round. Each scatter is worth between 2 and 10 free spins, making it possible to get up to 50 free spins if you manage to get five scatters for your trigger symbols.
The Biggest Progressive
Many players play Megasaur just for the chance at winning the monstrous progressive jackpot. It's worth around $1 Million which is more than most other slots ever make available to gamblers. For that reason it is very difficult to win the top progressive jackpot, but it is possible. To qualify for a shot at the jackpot you need to wager $5 with each spin of the reels. Apart from doing that you need to be in the free spin round of the game and you need to get the special progressive jackpot combination during the free spin round. Overall Megasaur is an excellent online slot game with a lot of features to take advantage of. If you want a solid slot game to try out this is the one for you to test. You'll love the high paying features and the chance to win a whopping $1 Million if you're lucky enough.