Return of the Rudolph Slots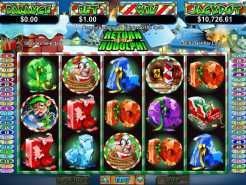 Current Jackpot
$9,376.66
Play Now
Return of the Rudolph is an exciting 50 reel video slot game with a holiday theme. The game is a popular one with modern-day graphics and exciting features and win opportunities, but that doesn't mean it's the best slot game for everyone. Read on to see our full review of this slot game and to learn why some people enjoy it quite a bit.
A Cool Holiday Theme
While most holiday slot games have a cutesy theme with nice features and symbols, that's not the case with Rudolph's Revenge. In fact, this slot game is all about Rudolph heading to the dark side so to speak. He puts on a cloak that puts shadows over his eyes, and he goes around smashing up presents toys and what have you. He's a real villain in this slot game and we like that a lot. It's a cool variation from the standard theme of the game and it makes things far more interesting as well.
Fixed Payline Fun
One of the best things about Return of the Rudolph is the high number of paylines. With 50 lines in all there always seems to be a prize rolling in. The creators of the game decided that everyone should enjoy the fast-paced fun experience of the 50 line slot the same, so they made the lines fixed. That means you have to bet on all 50 of them to play. There's a minimum bet level of $0.50 per spin and a maximum of $250.00 per spin. Those are amounts that should make most gamblers very happy.
Progressive Jackpot Scatters
Return of the Rudolph does something out of the ordinary with its progressive jackpot as well. It gives it a nice starting value of $5,000 coins and makes it unlock with five of the thug scatter symbols. It's not as difficult to trigger this jackpot as you would imagine, so many players have won the lucrative top progressive from Return of the Rudolph.
Lucrative Free Spins
While the thug symbols are used to trigger the progressive jackpot, they are also relied on to unlock the bonus games in this online slot. Get three or more of them and you'll quickly unlock one of three different bonus games that we'll go into detail explaining below.
Rudolph's Revenge
This bonus game gives you 7 free spins along with doubled wins that are multiplied by the number of Rudolph symbols on the screen at the time that you win. With enough scatters all the thug symbols will transform into Rudolph symbols as well for even more win opportunities.
Santa Strikes Back
In this bonus round you get 7 free spins and are tasked with collecting stars during the round to renew the free spins once again. Each time the free spins round is reset the multiplier moves up by 1x to a maximum of 9x with enough luck.
Rudolph's Rampage
In this bonus feature of the game you are tasked with choosing boxes to reveal elves. Elves give out free spins and bonuses when selected. It's possible to get 50 free spins at the maximum. Some elves will show up with presents in their hands, and these little guys offer prize multipliers, additional wilds, and stacked wilds during the free spin rounds. Return of the Rudolph is a top-tier online slot game and an excellent option if you're looking for online slot fun. It packs in a bunch of different bonus features and gives you plenty to look forward to if you want a complex game to play through with top prize opportunities.