Naughty or Nice III Slots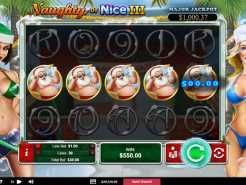 Current Jackpot
$2,273.07
Play Now
One of the sexiest and most exciting slot games dedicated to the holiday season is back again in the form of Naughty or Nice III. This slot promises a whole new bundle of special features and lots of different ways to win, while also showcasing the Naughty and Nice girls. There's a lot to love about this slot, but we do have some criticisms about it as well. Read through our review of the features down below to learn what you can expect from this all-new slot release.
A Smaller Maximum Win
It's possible for you to win about 500 times your line bet in Naughty or Nice III during the standard rounds of this slot game. This isn't much by itself, but it doesn't mean that this slot isn't worth taking the time to play. While you won't become rich off of a single win during the base game, there are enough special features and bonuses to help you unlock some very impressive prize payouts as you play this slot game, you just need to keep playing long enough to trigger some of them.
Exciting Progressive Jackpot Wins
There are two different progressive jackpot features and either of them can trigger after any spin that you complete in this slot game. There is a Minor and a Major jackpot and they start off in the hundreds or the thousands depending on the one that you get. That's a decent amount of money, and things get very interesting after they have had some time to grow. You could walk away with a bundle of cash from these features, and they are just one of the many different features available in this slot.
Winning More with Wilds
Naughty or Nice III has special wilds that can help you win prizes more frequently. These wilds group together in clusters and when you make use of them you'll enjoy improved chances to unlock prize payouts. The Nice Girl symbol appears in clusters on the last two reels, and the Naughty girl shows herself on the first two reels of this slot game. Together, you have clustered wilds showing up on the reels all the time, which certainly keeps things interesting as you play through one round after another.
Winning with Lucky Features
Naughty or Nice III has a bonus known as Lucky Features that can trigger any time that you are playing. You just have to spin the reels and be fortunate enough for one of the Lucky Features to trigger from there. That's all there is to it. If you get the Lucky games feature you will be rewarded with between 5 and 10 free games just for spinning the reels. You could also unlock the Naughty or Nice III bonus feature with the Lucky Feature, bringing you through a very rewarding bonus round that we describe down below. No matter which of these features you unlock, you have a good chance of winning some excellent prizes because of it.
Winning with Bonuses
There are a few different bonus features in this slot game, but you trigger all of them by getting three or more of the scatter symbols on the reels at the same time. Do that and you'll be asked to choose between the Naughty girl and the Nice girl. The choice you make determines what sort of bonuses that you go through, but either one will seriously boost your chances of winning some prize money.
The Nice Girl Bonus
If you choose the Nice girl bonus, you'll enjoy one of two free spin bonuses over your 7 free spin rounds. You will either get a Nice girl that covers the entire fifth reel as you play, or a Nice girl that covers reels 4 and 5 during the free games. With all those wilds on the reels it's easy to see how good your chances will be of winning some nice cash. During this round the Nice girl doubles any prizes that she helps create, which is even more profitable.
The Naughty Girl Bonus
If you choose the Naughty Girl for the bonus feature instead, you still get 7 free spin rounds, but you get a set of special bonuses that are quite different. The Naughty girl symbol will either cover the entire first reel or the Naughty girl will count as scatters throughout the bonus spins. This is a big deal because getting three or more scatter symbols will reward you with an additional 5 free spins. The Naughty girl symbol will also double prize payouts during these rounds, making for some interesting prizes won.
Thanks to all the different bonus features there is a lot to like about Naughty or Nice III. You have so many different ways to win special prizes as you play through the rounds that you are likely to trigger one of the special features or bonuses. The standard top prize of this slot isn't very large, but that doesn't matter because you are pretty likely to win some prize combinations as you play along anyway.