Halloween Treasures Slots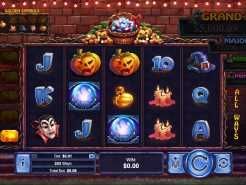 Current Jackpot
$6,275.25
Play Now
Halloween Treasures slot is a newer release from Realtime Gaming. This slot game offers a handful of special bonus rounds and additional perks that will have you looking forward to your time with the game. It's an interesting slot experience and one that we wanted to test out fully. That's why we've assembled a complete review of the Halloween Treasures slot game down below. Learn about the bonuses, prize payouts, the special jackpot features and more below.
A Beautiful Slot Game
One of the first things that we noticed while testing Halloween Treasures is how beautiful this slot game is. Each of the symbols is nicely drawn (with the exception of the different letter and number symbols) and the unique symbols give the slot an interesting look. This Halloween gambling experience has an ominous look to it and it's a lot of fun to play around with. It's clear the slot was made specifically with fans of Halloween in mind.
Basic Paying Symbols
A brief glance at the paytable for this slot isn't all that impressive. While there are a few symbol combinations worth thousands of coins, most are worth much less. The trick to winning decent prizes in this game is to rely on special bonus features and the wild multiplier that can transform a small prize payout into something more substantial.
A Reliable Paying Slot
Halloween Treasures is a slot game that's best for gamblers that enjoy winning prize payouts frequently. That's because the game pays out rewards regularly, though most of those wins are smaller in size. You aren't likely to get rich from playing this slot, but you should unlock plenty of wins with any given gaming session that you go through.
Watch for the Gravestone Multiplier Wild
One of the most useful features found in this slot game is the gravestone wild that appears only on reel 3. This special symbol replaces most other symbols and serves as a prize multiplier worth between 1x and 5x depending on the bet amount that you have in place. The bigger your wager amount the bigger the multiplier. That's why it's a good idea to bet big while playing if you can.
243 Ways to Win
Halloween Treasure slots has a special payline system that pays out in 243 different ways rather than having set paylines. This gives you many chances to win prize payouts and should improve your chances of coming away with regular prizes. This cluster system means you can win prizes in unexpected ways, which works to keep the game exciting to play.
Halloween Treasures Has Limited Wagering Options
There are very limited wagering options to work with when playing the Halloween Treasures slot game. In this slot the wagering works as if there are 88 paylines, but you can't adjust the line amount at all. Instead you can wager between $0.01 and $.10 per line for a wager range of $0.88 to $8.80 per spin. That's not that great of a range for many gamblers, though many low-stakes players will be happy with those options.
An Instant Play Game
Some slots only run on software you have to download to your computer. That's not the case with Halloween Treasures. That slot game will run in a web browser because it's an instant play Flash game. That means you can run it without downloading any software at all, and that it will run on most devices.
Try for Free
There's no reason to spend any money if you're just looking to get a feel for this new slot game. It's available to test out for free in Demo mode. To play a demo of the game visit a casino that offers the slot game and sign up for an account or just click on the game you want to play. Open the slot up in Demo mode and you can enjoy all the different features it offers without spending any real money doing so.
Play on Mobile
For all those gamblers out there that like to wager from anywhere they are without lugging around a computer, Halloween Treasures is the ideal game to play. This game, like many other leading creations by Realtime Gaming allows players to play on a mobile phone or tablet. That means you are free to play from anywhere you like. There's no software to download and the slot will run right from a mobile web browser for maximum convenience.
Rewarding Free Spins
This slot game offers a special free spin bonus round where the low-paying symbols are removed from the reels for the rounds unlocked. To trigger this special bonus you need to get three or more of the Crystal Orb scatter symbols. Do that and you'll be rewarded with up to 50x the wager amount as well as a total of 12 free spins to help you unlock some serious prize payouts.
The Jewel Jackpot Bonus Round
Opening special doors while playing Halloween Treasures gives you jewels up in your basket at the top of the screen. Save up enough of these jewels and you'll unlock the bonus jackpot round of this slot game. In this special round you flip coins in the hopes of turning over three matching jackpot symbols. Get three jackpots and you'll unlock the corresponding jackpot offer as a result. This gives you between 50 and 5,000 coins depending on which of the jackpots you trigger. Either way, you can come away with a decent prize payout as a result of this special bonus.
Halloween Treasures is a nice looking game with a good variety of features to take advantage of, but it's going to be a disappointment for most of the higher-stakes gamblers out there. With a maximum coin value of just $0.10 this slot game just doesn't offer big enough prize payouts for the players interested in winning big. It does offer frequent prize payouts and a maximum prize of $5,000 for the players betting at the upper end which is a pretty good value for low-stakes players looking for fun.