Monster Mayhem Slots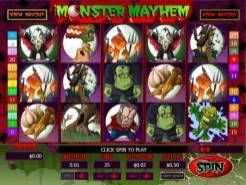 Current Jackpot
$2,957.20
Play Now
Monster Mayhem is a slot game that's very similar to Rampage the video game. Essentially there are two monsters, Crash and Bash, that are absolutely tearing up the city. Everyone is doing all that they can to stop these massive beasts from tearing the city down, but they aren't having much luck. The game features bold images, fun cartoons and a lot of unique characters that you'll come to love in time. Below is our review of the game so you can find out exactly what you can expect when playing it yourself.
Wagering
In Monster Mayhem you have a lot of wagering options to work with and it's up to you to decide an amount that you're comfortable with. There are 50 paylines overall, and you can bet between $0.01 and $5.00 on each line. Since you can turn these lines on and off, that means that you can actually wager between $0.01 and $250.00 per spin in this slot game. That's a huge betting range to work with and it means that you have complete control over the total amount of money that you risk while playing Monster Mayhem.
Progressives and Fixed Jackpots
There are two different progressive jackpots in Monster Mayhem giving you the chance to win hundreds or thousands of dollars randomly as you play through the rounds. These jackpots are simple to unlock and they can be done so randomly without you getting any special symbol combination.

If those random jackpots aren't enough, there's also the opportunity to win big from the fixed jackpot worth 12,500 coins. This is challenging to unlock but can be worth as much as $62,500 if you happen to be placing a top wager amount at the time that you win the big prize. That's a whole lot of cash that you can win and it means that you have something to shoot for while playing Monster Mayhem.
Monster Wilds
Crash and Smash, the two star monsters of this slot game also happen to be powerful wilds. These wilds will substitute for any other symbol in the game, including scatters, making sure that you have lots of different winning opportunities to take advantage of. Most of the time that you spin you're going to turn up some sort of prize on one of the 50 different active paylines that this slot has to offer you.
The Double Monster Free Spin
Get monsters Smash and Crash on the first and last reels of Monster Mayhem and you'll trigger a unique free spin experience. You'll enjoy 10 free spins with the monster wilds locked into position at the front and back of the reels. During these rounds you'll get an increasing multiplier that starts at 1x and works its way up to 10x by the last round. There are some amazing wins that come out of this free round, and that's the reason that so many players keep trying out Monster Mayhem.

Monster Mayhem is a slot game that's full of life and certainly worth a playthrough or two. Give the game a try and you'll be sad that you didn't try it sooner. It's a blast to play, offers some excellent winning opportunities and is worth the time to try out.