Ghost Ship Slots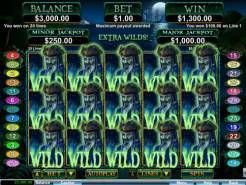 Current Jackpot
$3,253.03
Play Now
Take on the spooky mystery of a ghostly band of pirates floating around the sea terrorizing everyone that they come in contact with in Ghost Ship slots from Realtime Gaming. This online slot game has 25 paylines and a good set of cool unique symbols. It has an old-timey feel to it, with graphics that are meant to be creepy and nice to look at all at once. We decided to fully review this slot game after taking a look at some of its features. Keep reading to find out exactly what we though of the game after a play through.
Wagering Options
When you play Ghost Ship there are different wagering options that you can make use of. It's possible to bet a low or high amount of money depending on what sort of prizes you want to win and the bankroll that you have available as well. To make the most of your online gambling experience, you should choose a wager amount that you're comfortable with. There are 25 possible paylines for you to play on, choose between 1 and 25 lines for an amount that you're comfortable with. You're free to set a value for each of those lines as well between $0.01 and $1.00, giving you a full betting range of $0.01 and $25.00 to work with for each and every spin of this slot game.
Modest Prize Payouts
There are quite a few different prize payouts that come from playing Ghost Ship, but most of them are modest. The biggest prize payout is 2,500 coins and that's from the Ghost Captain wild symbol when you get five of them. The next highest jackpot is worth 1,250 coins and they quickly drop down from there. These modest prize payouts mean that you can't expect to get huge prizes from the slot game, but it's common to win several payouts in a row or at the same time raising the win potential of Ghost Ship substantially.
Expanding Wilds
The Ghost Captain wild symbol is powerful because it can expand to cover an entire reel during the right set of conditions. As you play the slot game there are going to be times when the wild symbol randomly expands and covers up the whole reel, usually this results in some pretty potent wins as well.
Ghostly Free Spins
The Ghost Ship symbol is key to unlocking the free spin feature in this slot game. Get three or more of them and you'll be taken to the free spin round to start playing. During the free spin round you get two free spins for every ghost captain or ghost ship symbol that's out on the reels when the round is triggered. If you unlock the free spins with four scatters you'll get 2x prize payouts throughout your free spins and unlocking it with 5 scatters gives you 10x prize payouts as you play. Getting three or more scatters during any free spin will add more free spins to the current feature that you're already playing. Ghost Ship is a top quality online slot game with more than enough special features to keep things interesting. We were disappointed with the smaller jackpot payouts offered by the game, but there are more than enough benefits to this slot to make it worth testing out at least once.