Loch Ness Loot Slots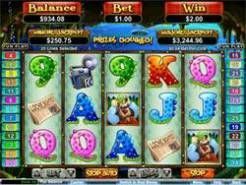 Current Jackpot
$2,182.05
Play Now
We all know the Loch Ness monster is real, right? Well, whether or not the famed monster is real, Loch Ness Loot is a fun online slot game themed after the monster, and it gives gamblers something different to try out. The entire theme of the game is about the craze around the Loch Ness monster, and it's designed to make gambling fun while giving players a range of colorful symbols to pick and choose from. We made up a full review of Loch Ness Loot and interested gamblers should keep reading to find out if the slot is worth playing, or if they should skip it for something else.
A Fun Theme
The theme of Loch Ness Loot is really the star of the slot game and can't be overstated. Even though the game makes use of standard card symbols, they're decorated nicely and the whole slot just looks really good. From the crazy old man out in the boat, to the old-school camera, to the hazy photos and bags of gold, it's all there. You'll feel like you're examining everything about the Loch Ness monster when you play the slot and it's a lot of fun.
Good Wager Flexibility
It makes no difference if you have a small or large bankroll when you play Loch Ness Loot thanks to the careful wagering limits. The game is pretty darned flexible with the option to wager on between 1 and 25 lines, and also the option to turn your wagers up or down to reach a comfortable level. You can very easily wager $0.01 to $5.00 per line, and you can go from 1 to 25 lines. Players are free to gamble between $0.01 and $125.00 per spin when playing.
Wild Nessie
The Loch Ness monster itself is one of the most valuable symbols of the game and serves as the wild that can match up with any symbol other than the treasure scatter. The symbol will help you complete more prize payouts and hopefully win big as well.
Free Spins
Get three or more of the scatter symbols and you'll trigger the free games feature of Loch Ness Loot. Once the feature begins you'll have better opportunities to win big. During each round any Loch Ness symbol that shows up will expand to cover the entire reel of the slot, helping to complete even more prizes. It's possible to get a whole slot full of wilds in this round, which can lead to some seriously good payouts.
Random Progressives
There are two different random jackpots that can both be triggered independently of one another. These jackpot payouts are triggered seemingly out of nowhere and you don't have to do much at all in order to get them to hit. Just spin the reels and get lucky and you'll be collecting your jackpot cash. That's all there really is to this special feature, and it gives you something else to look forward to. The minor jackpot is usually worth hundreds, while the major is worth thousands of dollars.

Loch Ness Loot takes a playful theme and makes it into a fun online gambling experience. The slot is smooth to play, easy to understand and packs in a few decent wins and bonus features to give you plenty to look forward to. No matter if you are new to slots, or just looking for another exciting option to try out, Loch Ness Loot doesn't disappoint.