Ocean Oddities Slots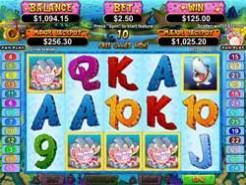 Current Jackpot
$3,486.48
Play Now
As is to be expected based on the name of this slot, Ocean Oddities is all about the many different strange creatures that you can find on the bottom of the ocean floor. You'll see a bunch of odd looking fish, urchins, turtles and more when you play through this slot. Each of the symbols is very colorful and set over top of a beautiful ocean backdrop that's down under the sea and shows off a range of different plants.
Set Your Bet
To get started with Ocean Oddities you need to place a wager and that's not always as simple as it seems. There are 25 different lines that you can wager on if you choose to, and each of those lines will accept one coin. Coin values can be adjusted from $0.01 to $5.00, which means you can wager between $0.01 and $125.00 on your spins. That's a good bit of flexibility and the result is a decent range to work within as you play the slot.
Multiplier Wilds
The wild symbol in Ocean Oddities doubles any win that it's apart of, but a unique feature of the wilds in this slot are that they will stack up their multipliers. That means you can effectively get up to 16x your win if you get four wilds and another symbol. The Codfish symbol, which is normally worth a maximum of 2,500 coins, is worth a massive 40,000 coins with help from four wilds as well. That's a huge prize payout worth as much as $200,000 when placing a maximum wager while you play the game.
Random Jackpots
Like many other video slot games that you'll try today, Ocean Oddities has two different random jackpots that grow in size as you play. These jackpots can be paid out after any spin, and you don't need a particular symbol combination in order to trigger them. Just keep spinning and hoping and eventually you could walk away with a pretty nice payout from one of them.
Basic Free Spins
Get three or more of the pearl symbols and you'll trigger a series of 10 free spin games to play through. The free spins don't come with any special multiplier or anything like that, but they will make it easier for you to get some more wins without spending more.

Ocean Oddities is a slot that's full of character. It has a pretty unique theme and it's a lot of fun to play through the rounds of. It has a decent selection of features to choose from, which makes it worth playing, and it's possible to win stunning prize payouts with a bit of luck.