Lucky 8 Slots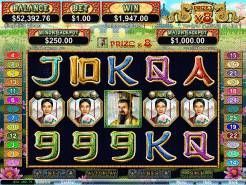 Current Jackpot
$1,122.24
Play Now
Lucky 8 is an Asian themed online slot game that's all around the lucky number eight. All the best prize payouts are in denominations of eight. The bonus awards 8 free spins, there are special x88 multipliers and there are a bunch of unique prize payouts for this very reason. The slot itself is pretty nice looking and crams in a range of cool features that keeps things interesting. We reviewed the game entirely and if you'd like to learn more about the slot you should take the time to read through our review.
Wagering
There are 25 paylines and you can wager on between one and 25 of them. The wager per line ranges from a minimum of $0.01 to a maximum of $5.00. That means you can risk between $0.01 and $125.00 per spin. Choose a level that you are comfortable with and get gambling.
Emperor Wilds
The emperor symbols are wilds in this slot game and will help multiply your wins as well. Completing prize payouts with help from emperor symbols results in multipliers between 2x and 8x depending on your luck. Either way, the emperor wilds will help you unlock the very best prize payouts possible while you play through the slot game.
Powerful Scatters
Scatter symbols do two things for you. The first is paying out a range of prize payouts depending on how many you get on the reels. The top scatter payout is 88x your total wager amount and you can unlock that by getting five scatter symbols on the reels. Getting three or more scatter symbols will also leave you with eight free spins for you to try and win as much as possible off of. Either way, you have a lot of winning potential from scatters in this online slot game.
Huge Prize Potential
The biggest possible win that you can get from this slot game is 3888x your line bet if you're lucky enough to trigger this win. It's not a huge top prize, but could leave you with more than $15,000 in prize money if you're wagering the maximum amount while playing this slot.
Random Jackpots
Like so many other slot games offered by Realtime gaming, there are random progressive jackpot payouts awarded to lucky gamblers after certain spins. To trigger these payouts you just need to spin the reels enough time and have some luck on your side. Do those two things and eventually you could walk away with hundreds or thousands of dollars from the jackpot payouts.

Lucky 8 is a cool online slot with a good set of features to work with. It doesn't offer anything too crazy in terms of prize payouts, but most gamblers walk away from the slot game happy with their experience with the game.