Santastic Slots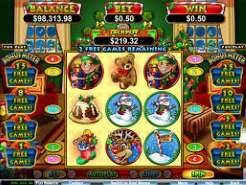 Play Now
Santastic slot is a fun Christmas themed online slot game that's perfect to play around the holidays. This slot is set on a 3x3 set of reels with symbols like elves, Santa clause, Rudolph, candy canes, snowmen and more. There are a wide number of features for such a compact reel layout, which makes this slot game into a very intriguing option to test out. We did a full review of the game, and you'll find our recommendation for the game down below.
Wagering
There are quite a few different wagering options to work with when you play Santastic, but you can select between one and five lines when you play the slot. With wagering options between $0.10 and $1.00 per line, you can bet between $.10 and $50.00 per spin of this online slot game. Choose something that you are comfortable with, but also think about the prize wins that you can get with different wager amounts and choose an amount that offers prizes you can really get excited about as well.
Watch for the Christmas Stockings
The stocking symbols are powerful wilds designed to help you win as much as possible. Double stockings pay out 2x the standard prizes when you use them to complete a prize. Triple stockings pay out 3x the standard winnings when you rely on them to help complete prize payouts. Either way you can magnify your traditional winnings with these potent symbols, which is why they're so good to make use of. It's also worth noting that if you combine 2x and 3x wilds together to create a prize you can get up to a 6x payout which is really nice when combined with one of the higher paying symbols.
The Festive Feast Bonus Round
Get three of the Double or Triple Wild symbols and you'll trigger the special bonus round as well. This round gives you between 3 and 25 free games, it gives you jackpot spins or up to 2500x your total wager amount depending on what the bonus meter says. Bonuses change depending on the meter, and it's always exciting to see what you are going to unlock, but be wary of the No Bonus space that will see you with nothing at all.
Top Paying Santa Symbol
On its own the Santa symbol isn't all that impressive. Getting three Santa symbols gives you just 100 coins, but if you combine Santa with the two wild symbols you can win up to 600 coins on a single spin which is much more lucrative and exciting.
The Progressive Jackpot
Santastic Slots has a progressive jackpot that's always going up until someone manages to win it. This payout should be worth thousands of dollars, but only if you can get the right combination of symbols to unlock it. To do this you need to get three of the jackpot symbols on the same payline. Do that and you'll win the amount in the jackpot box currently!
Santastic slots is a cool slot game that's perfect for the holidays. It has plenty of different features to keep you busy the entire time that you play, and with such nice looking symbols you'll really get into the holiday spirit by the time you're through playing.