Medal Tally Slots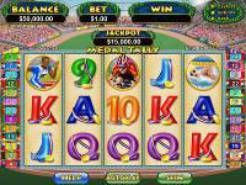 Current Jackpot
$23,861.47
Play Now
Medal Tally is an online slot game that's themed after the Summer Olympics. It shows off images of different athletes competing in their events, and offers a cool blend of features and prizes that you aren't likely to see on many other slots. Just because the game is unique we decided to review it fully. Read on to learn what we think about this online slot game.
Generic Graphics
Medal Tally does a good job setting up the backdrop of the slot with a coliseum that looks prestigious and important, but other than the nice background and a few cool looking symbols, this slot is pretty generic overall. The game makes use of the standard number and letter card symbols that are disappointing, so if you're looking for a slot game that's going to wow you graphically, this isn't the game for you. Fortunately, the slot game has a lot more going for it other than its looks.
A Fixed Bet
Most slot games provide you with options about what level wager you want to place, not Medal Tally. Instead it's set up with a fixed wager at $1.00 per spin. If that's a wager level that you're comfortable with this isn't an issue, but it might be too high for some gamblers and will undoubtedly be too low for others. Still, you won't have to spend any time trying to decide what wager level you want to play at, and the simplicity is relaxing if nothing else.
Win Big
There are two decent prize payouts in Medal Tally that you can look for with every spin of the reels. It's possible to win as much as 10,000 coins from five of the wild symbols, which is worth exactly $10,000 to the gambler. It's also possible to win up to 5,000 coins from five of the racers on a single payline. Other than these two big winning symbols there are a few others worth more than 1,000 coins apiece, and the rest are worth much less than that.
The Medal Jackpot
Medal Tally uses a unique medals feature that attaches medals to different prize wins in the bonus free spin game. After you unlock different prizes you'll accumulate the medals from those prizes. Get 50 medals during a play session and you'll trigger the jackpot prize payout, which is worth tens of thousands of dollars normally. The jackpot isn't easy to unlock, but the more free spin rounds you go through, the more likely you are to actually unlock the top jackpot with enough medal wins.
Free Spins
Getting at least three scatter Feature symbols will reward you with free spins. Between 10 and 20 free spins are given out depending on the number of scatter symbols you get to trigger the round. During your free spin round any prizes that you win are tripled in size, and there's a special bonus feature to help you win even more with enough luck. If you manage to accumulate a decent number of medals during the free spin round, you'll win a sizeable bonus amount

Medal Tally isn't the most beautiful slot game, but it's a decent online option with some cool features to look forward to. If you're looking for an online slot game where you can win big, this could be the game for you, and anyone that's a fan of the Summer Olympics will have a hard time passing up this slot opportunity.