Basketbull Slots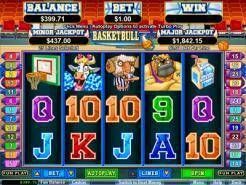 Current Jackpot
$2,580.66
Play Now
Basketbull combines annimals and basketball into a fun mixed up sport that's pretty entertaining and potentially lucrative for you as well. While looking at one mixed up basketball character after another, you'll be trying to unlock some of the generous payouts or the exciting features of this slot. Read on to learn more about what you can expect from the game and whether or not it's worth your time.
Simple Wagering
Most slot games task you with figuring out how much you want to wager per pay line of the game and then deciding how many lines you want to wager on. That's not the deal in Basketbull though. In this slot game you just choose the total overall amount that you want to wager. No math involved at all. You can risk anywhere between $0.01 and $5.00 per spin and that's the only decision that you really need to make to get started playing. Things are simple and easy and a lot of fun as well.
Decent Prize Payouts
While playing through one standard round after another, your goal should be to either get the basketball scatters or the animal symbols. These high powered symbols pay the best in the game, starting with the top paying wild symbol. The basketbull symbol himself is the wild of this slot and will help you complete more prize payouts. Not only that but the symbol is also worth up to 10,000 coins if you manage to get five of them on the payline at once.
An Exciting Free Throw Bonus
Get three or more of the basketball scatter symbols and you're on your way to the free throw bonus round. During this bonus you'll get a bunch of free spins and chances to win a whole lot of cash. The round starts with a series of free throws completed by the bull himself. You get 3 free spins initially, and the bull gets a free throw for each scatter you used to trigger the round. Any shots that go in double your free spins, which means that five successful free throws leaves you with 96 free spin rounds to go through. The best part is that during the rounds you can re-trigger the free-throw feature for more spin opportunities. During any of your free spins your prize payouts are tripled, that means you can come away with some stunning prize wins from this special bonus.
Win Win Feature
There's a special feature available to all players betting the maximum number of paylines while going through the free spin bonus game. Do that and you'll have access to the win-win feature. This special feature makes sure you win a decent prize from the special bonus round. If you don't win more than 10x your wager amount during the bonus, you'll be awarded with a special bonus amount. This amount varies depending on how much you won during the round and if you go through the round without winning anything at all you'll get a whopping 100x your wager amount. Remember that this feature is only available to players that wager with the maximum number of paylines though. Just another reason to bet bigger in Basketbull.

Thanks to the high powered free throw bonus round there's a very good reason to try out Basketbull the slot game. This slot is a lot of fun, offers some nice winning opportunities and is the perfect tool to help you get as much as you can out of your online play experience.