Naughty or Nice? Slots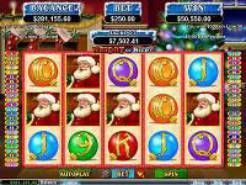 Current Jackpot
$5,098.49
Play Now
Naughty or Nice is a fun online slot game that's set in a Christmas setting. It's up to you to choose whether you want to go with the Nice Girl or the Naughty Girl while you play this slot, and your choices will change what sort of winning chances you have while you play the game. No matter what you decide to go with, there's a lot to do and plenty of prizes to win from this slot. Give it a try and you'll see what all it has to offer you.
Choosing a Wager Amount
Naughty or Nice is one of the online slot games that offers a massive 50 paylines, which means that you have a lot of flexibility when it comes to the wager amounts that you can set up. You must play every single one of the 50 paylines with every spin that you make in the slot game, but that doesn't mean that you have to wager a huge amount of money to enjoy the slot. With a minimum line bet of just $0.01, you can get away with a wager of just $0.50 while experiencing this enjoyable online slot game. The maximum wager of $5.00 per line gives you a top bet amount of $250.00 which should satisfy even all the high rollers out there.
Choosing Naughty or Nice
When you go into the free spin bonus round you need to choose between Naughty or Nice. The choice that you make determines the multipliers that you'll enjoy as well as which symbols are the most valuable when you play the game. Make sure that you try out both options to see which one you like the best while you experiment with this slot, but we preferred choosing Naughty while testing out the slot ourselves.
Free Spin Rewards
Get three or more of the scatter symbols in Naughty or Nice and you'll trigger 10 free spins with different rewards depending on whether you decided to go with naughty or nice when the feature triggers. Either way, you have a lot of nice bonuses coming your way and you could win some really big prize payouts with enough luck as well.
A Nice Progressive Jackpot
I think that we can all agree that progressive jackpot wins are very nice to unlock. It's possible to trigger the progressive jackpot displayed above the reels by getting five of the Nice girl symbols on an active payline. Do that during the standard game and you'll enjoy the huge jackpot that can be as large as $250,000 with enough luck. Serious gamblers will all look forward to winning this huge jackpot, but even those that don't trigger the progressive have a lot to look forward to with this slot game.
Whether you choose Naughty or Nice, there is a lot to enjoy while playing this online slot game. It's a fun experience, it has some nice looking symbols and a fun theme and that's why it's so popular with online gamblers. As long as you can afford the $0.50 minimum wager amount, it's worth testing this slot out at least once.