Football Frenzy Slots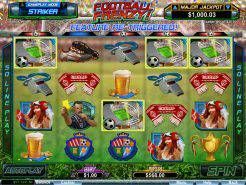 Current Jackpot
$1,055.07
Play Now
Football Frenzy is the football or soccer themed slot game as it's sometimes known that offers a whole bunch of features and chances to win cash. On the surface it's a nice looking game, but we wanted to dig down below the surface and really get to know this slot a bit better. That's why we took the time to try the game out and decide if we really like it and the feature blend that it offers. Read on to learn what we think about Football Frenzy.
Paylines Galore
It's rare to find a five reel casino game that offers a whopping 50 pay lines to choose from. This slot gives you ample chances to unlock paying prizes, and is well-known for regular payouts with every single spin of the reel. You'll enjoy winning cash often, which helps keep this game a bit more exciting overall.
An Okay Betting Range
We sort of like that the 50 paylines in this slot are locked active at all times, it keeps the action coming strong and fast, but that does limit your betting options a bit. The minimum you can bet while playing this slot is $0.50. The maximum is a whopping $250 with $5.00 on each of the different pay lines. You'll probably want to bet somewhere in the middle, so carefully choose an amount that's okay for you by turning the bet amount up or down until you settle on a number.
Just Alright Base Wins
There are a ton of special features and high paying jackpots in Football Frenzy, but the base game leaves much to be desired in the way of top jackpots. The highest win that you can expect on this slot is 1,000 coins, and it's common to win much less than that most of the time. Players hoping to win big with this slot must wait for the special rounds of the slot to unlock the largest prizes.
The High Paying Bonuses
At the beginning of your game at Football Frenzy you'll be asked to choose between Lucky and Striker, this is all for the benefit of the special free spins feature of the game. Striker gives you potentially more spins to enjoy, while Lucky can help trigger an additional feature for more chances to win cash.

The free spin game is triggered by three or more scatter symbols. If you are playing on Striker mode then three scatters equals 8 free spins, four is worth between 10 and 25 and five is worth between 50 and 100 free spins.

If you're playing Lucky you'll always get 8 free spins, but you'll have a chance to unlock Penalty Kicks at the end of any turn. Getting five Bonus Ball symbols will bring you to a Penalty Kick round where you can win up to 900x your full bet amount.

No matter which mode you have the game set on, you'll enjoy 3x the standard prize payout while playing the free spins round, and you can win a huge amount of cash with a string of modest prize payouts in this game type.
Random Jackpots
There are Major and Minor progressive jackpots in Football Frenzy for you to unlock. These special prize payouts are offered at random and can be triggered at the end of any round of the slot game. Simply turn the reels and there is a small chance of winning one of the two prizes as you play.

Football Frenzy is an innovative little slot game that's ideal for Football or Soccer players that want to experience the game and try to win some quick cash. It's good for gamblers that prefer long strings of wins rather than one-off huge prize payouts, and it's worth a try or two.