Rudolph's Revenge Slots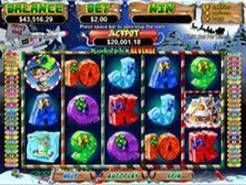 Current Jackpot
$35,711.94
Play Now
There's nothing like a good holiday slot game to get you into the spirit of the year, and that's why we've decided to give Rudolph's Revenge a try. This famed video slot is a bit older, but it has a lot of features and is supposed to be worth checking out. In this review we'll go over the most exciting features of the game and decide whether it's worth playing through or not.
50 Lines with Fixed Coin Size
Rudolph's Revenge was one of the first games to offer 50 pay lines from RTG, which means that it hits often and can keep the excitement rolling through hours of gameplay. There are some oddities with this slot game though. The first is the strange $0.04 fixed coin size. This can't be adjusted, so you'll have to turn your pay line amount up or down to form your bets. You can choose to bet on some of the pay lines or all of them, for bets ranging from less than $0.10 a spin, to as much as $2.00, either way, this online slot game is very affordable to play.
Huge Progressive Jackpot
One of the highlights of Rudolph's Revenge is the massive progressive jackpot that grows in size every single time you spin the reels. This jackpot starts off at $20,000 and grows from there, leaving you with some very exciting top jackpots to try and win. To unlock this lucrative payout you need to get five of the Rudolph symbols outside of the special bonus round. These are the wilds of the game and they will immediately award you with the huge payout.
Scattered Free Spins
There's a special free spin round in Rudolph's Revenge that can be highly lucrative. Unlocking it is as simple as getting three or more scatter symbols from right to left. The more symbols you get in a row, the better the free spin round is going to be. You'll always get 7 free spins, but getting additional scatters transforms the Santa symbol and the Bomb symbol into wilds on top of the standard Rudolph wild, leaving you with a lot more opportunities to win some of the best prizes in the game. The free spin round begins with a 2x multiplier, and every additional Rudolph that pops up will bump that multiplier up by 1x.

Rudolph's Revenge is one of the top holiday slots that we've tried out. It's packed with good solid features, and pays out an awful lot of cash for having a maximum bet amount of just $2.00. If you're looking for an affordable slot game to try out, this one has a fun theme, looks nice and can be very lucrative as well.