Lucky Tiger Slots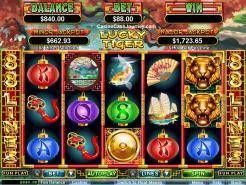 Current Jackpot
$4,345.45
Play Now
Lucky Tiger is an online slot game designed to celebrate the Chinese year of the Tiger. It was released back in 2010 and has been played regularly ever since then. The slot looks pretty nice on the outside and offers a good blend of features as well. Keep reading to learn more about the slot and whether it's a worthwhile option to try playing or not.
Odd Wagering Limits
Since Lucky Tiger gives you the option to wager up to 88 coins, the maximum amount of money that you can risk in this slot is pretty odd. The coin size you can set in the slot is between $0.01 and $1.00. After you have the size determined, you choose the number of coins that you want to wager. You can risk between $0.01 and $88.00 per spin in this slot. These amounts determine how much money it costs you to spin, and also how much you can potentially win if you get a prize-winning combination from Lucky Tiger.
Just an Okay Jackpot
During the regular rounds of Lucky tiger the very best win that you can get is 2,888 coins. That's not a huge win by any means and isn't something that too many gamblers are going to get excited about. Sure, $2,888 is a good win if you're wagering the top amount of money, but it's hardly a life-changing amount of cash, especially if you're risking as much as $88 per spin of the reel. That's why it's so important to keep playing until you unlock one of the special features of this slot, to make sure that you have a shot at the biggest possible wins.
Lucky Tiger Spins
There are Gong symbols that show up all over the reels as you play Lucky Tiger. These symbols unlock a series of special bonuses, including the Lucky Tiger free spins round. This gives you 8 free spins where every single win that you get is tripled in size. That means you can get over 7,000 coins on a single spin with this special feature if you are lucky enough to get the jackpot and there's a chance that you can unlock additional free spins as well. Get between 1 and 5 gongs during the free spin rounds and you can get between 1 and 25 extra free spins to keep you going.
Gong Spins
The special gong free spin round gives you 8 or 18 free spins where all gong symbols are now wild tiger symbols. During this round you can get 5 extra free spins each time you get several gong symbols at the same time. There aren't any multipliers with this bonus feature though, so you'll just have to hope for several standard level wins to make the feature worthwhile.
Fortune Feature
The best feature of all is the Fortune feature and this unlocks the same way. This feature gives you a total of 8x free spins during which time you get an increasing multiplier. It begins at 1x and climbs to 8x through the rounds. During the rounds any gongs and garden symbols are wild, and if you manage to re-trigger the bonus you'll get 5 additional spins each time with an 8x multiplier for each of the additional spins.

Lucky Tiger is a pretty cool online slot game and offers plenty of ways for you to win big with enough luck. The slot offers pretty small top jackpots during the standard rounds, but all the real money is won during the special feature rounds of the game anyway. That's where things get interesting and that's what you should be hoping for every time you play the slot.