God of Wealth Slots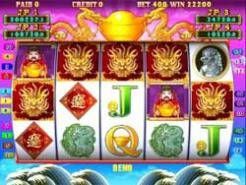 Current Jackpot
$1,829.27
Play Now
God of Wealth is the latest oriental-themed online slot game from Real Time Gaming. It features a set of different colored 8's as well as some custom symbols such as a tiger, and dragon and several others. The game is a typical five-reel video slot, and it has many of the features that you would expect of such as slot. With a total of 25 pay lines you have plenty of opportunities to win, and you could be the one lucky player to unlock the large standard jackpot, or even the progressive jackpot listed up in the top corner for the game.
A Limited Betting Range
Gamblers that are accustomed to having access to a huge slot betting range might be a bit disappointed with the options available to them. It's possible to bet as little as $.01 per spin, and as much as $6.25 per spin. Low stakes gamblers will be happy with the options available to them, but the high rollers will feel a bit limited overall.
a Massive Jackpot
It's possible to get up to 10,000 coins during the standard game of God of Wealth by getting five different God of Wealth symbols across one of the pay lines. Do that and you'll immediately receive the 10,000 coin jackpot. That's a pretty decent victory amounting to about $2,500 when betting the maximum amount for each spin. It's not a giant win, but worth getting excited about.
The Random Progressive Jackpot
Players can also access a random progressive jackpot if they are lucky enough to unlock it. These players will receive the bonus amount listed in the box above, and it can grow quite high over time. The large progressive makes playing the casino game more exciting, because there is always a chance that you could win big when you least expect it.
Excellent Mobile Support
There's top quality mobile support for this casino game, and players on both Android and iOS devices can enjoy this slot game while on the go with no problems at all. They simply need to visit the website, start up the game in their web browser and start playing. No special downloads are required and getting started is quick and easy to do.

There are plenty of reasons to play the God of Wealth slot game. If you're looking for a quality video slot game, this is the one. Sure bets are more limited, but there are plenty of win opportunities available for most players.