Count Spectacular Slots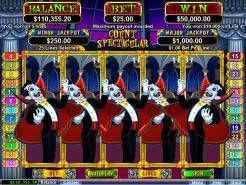 Current Jackpot
$3,928.20
Play Now
Count Spectacular is a spooky fun slot game themed after Halloween and Dracula specifically. If you like the idea of Count Dracula and vampires, there's a lot of character in this little slot game. Character alone doesn't make a slot worth playing though. Read through our review to learn what we thought of the little game during our play through.
Betting
Betting in Count Spectacular is simple and to the point. There are 25 lines for you to bet on and they are variable. You can choose to bet on any number of them between 1 and 25. After you set your line amount, then you can set a bet per each of those lines. Bet amounts can be as high as $5 and as low as $0.01. This means players can bet between $0.01 and $125.00 with every single spin of the reels. That's a good sized range to work within and it keeps things interesting for everyone.
Count Spectacular Wild
The Count Spectacular symbol is a growing wild that can show up on any of the reels of this slot game. That means it's possible to get a screen full of wild symbols if you are a lucky enough player. Do that and you could end up with up to 50,000 coins, or a whopping $250,000 if you're betting the maximum amount of cash while playing this slot game.

Even getting five of the wilds throughout the reels would help you unlock a pretty impressive 10,000 coins which could be a huge victory. Either way, you can unlock some seriously good wins from this slot game with a bit of luck, and you don't have to be in the special bonus rounds to get the good wins either.
Free Spin Features
There are two different special free spin features in Count Spectacular. They are both triggered by getting a wild expanded vampire on the first and last reels of the slot. Once you do that you can choose to get 12 free spins or 4 re-spins with the wilds held in place. Either option can pay out some really nice prizes, but it's up to you to choose the one that you think will offer the biggest wins overall.
Progressive Jackpots
On top of the impressive wild and the nice free spin rounds, you have two progressive jackpots to look forward to as well. The minor and major jackpots both pay out randomly and it's possible to win one or both of these jackpots at the conclusion of any spin of the reels. Play through the rounds with a bet at any level that you are comfortable with, and you could unlock the generous progressive jackpots that only grow larger and larger with time.

Count Spectacular is a pretty nice slot game that looks really good. It's the type of slot that will draw you in based on its appearance alone, but you won't be disappointed with the features that it offers. With a good solid betting range, decent features and sizeable top payouts there is plenty to love from this slot.