Lucky Lightning Slots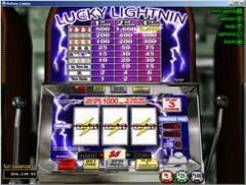 Current Jackpot
$20,250.91
Play Now
Lucky Lightning is an old-school online slot game themed after the classic slots that were out long before the internet was even around. This slot game offers slightly outdated graphics, but it's designed in a way that will appeal to classic slot gamblers looking for something simple and fun to play. From the moment that you get started with this slot game it should be clear what you can expect from it, and that's the charming thing about this slot.
Wager One to Three Coins
Start off playing Lucky Lightning by choosing wager between one and three coins. The slot rewards gamblers for choosing three coins by offering a much more generous top prize payout to those that do. Each coin is worth $0.05, which means that playing the slot will cost you between $0.05 and $0.15 per spin depending on the number of coins that you want to wager.
The Top Payout Prize
The biggest prize that you can win from Lucky Lightning is 2,500 coins by getting three red 7 symbols while wagering three coins on the slot. This is worth roughly $125.00 which isn't a huge prize payout, but it's pretty exceptional when you're only risking $0.15 per spin. Long term gamblers won't get rich on this slot game, but it is a fun way to pass the time and offers decent enough wins to make your day with enough luck.
Simple and Easy
There are no special features in Lucky Lightning which keeps things very easy for new gamblers to understand. While some online slots have wilds, scatters or bonus rounds, you just get a short pay table with this slot. The moment that you start playing you know all the prizes available, which is why some gamblers find the slot game to be relaxing when they give it a try.
Lots of Prize Combinations
Even though Lucky Lightning doesn't offer huge prize payouts, the slot offers a wide range of payout types, giving you plenty of combinations to try and hit. Not only that, but you can mix and match some symbols to unlock wins from the slot. Any three BAR symbols will reward you with two coins for every coin that you wager, and every three Black symbols will award you with your money back after a spin.

Lucky Lightning is basic and we wouldn't recommend the game to any slot player looking for an intense gambling experience, but it's perfectly fine for gamers that don't mind simplicity and want something that they can understand easily from the moment that they start playing the game online.