Double Ya Luck Slots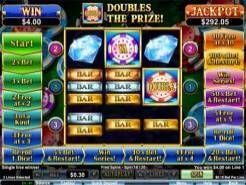 Play Now
Double Ya Luck appears to be a classic slot on the surface. It has just three reels and a single payline for you to win on. It's not a classic slot though, at least not by our understanding of the term. Instead, this slot game is very advanced, it offers a plethora of exciting features and it gives you more than enough to keep you busy while you play through round after round of this slot game.
Limited Wagering Options
Since there's a single payline to work with in this slot game the wagering options that you have to work with are limited. You can set between one and three coins on the payline of this slot, and you can adjust their value up or down to create the perfect wager amount for you. You can wager a minimum of $.10 per coin for the low wager of just $0.10 per spin to keep things cheap. You can wager up to $10.00 per coin up to a maximum of $30.00 per spin with three coins on the payline if you want to wager bigger for better prize winning opportunities.
Watch for Double Wild
Double Wild is the only symbol in this slot that pays out prizes even if you don't manage to get three of them across the reels. When you get this symbol it triggers a payout and can help double prize payouts that it creates. This potent wild won't substitute for any of the other bonus symbols though, leaving you to get those on your own if you want to unlock one of the many different bonus opportunities.
The Boardgame Feature
Get between one and three scattered dice symbols from left to right in this slot to trigger the boardgame bonus feature. This moves your token to the start position. From there, each die that you got to trigger the feature will roll and the total sum of all the dice determines how many spaces your piece moves. Different sections of the board offer free spins, special prize payouts, bonus symbols or the progressive jackpot. It's up to you to try and roll the very best combination that you can when playing through this special feature.
Double Ya Luck
There are special bonus symbols that read "Double", "Ya" and "Luck". You need to get all three of the symbols on the reels at the same time to trigger this special bonus round. They don't need to appear in the right order though. When you trigger this special bonus you start off with five free spins, but you must pick red or black before the rounds begin. Choose the right color and either your spin amount or your multiplier will double. Choose wrong and the free spin round begins. You can repeat this process up to five times before you get going, giving you the potential for a huge number of free spins with a decent multiplier as well. Even though Double Ya Luck is a classic-looking slot game, it's anything but. This slot game offers advanced features that make it interesting, challenging and very different from your typical classic slot game. From the moment you get started with this slot you'll be excited about all the different features available to you and the different ways that you can win big while playing through round after round.