King of Swing Slot Game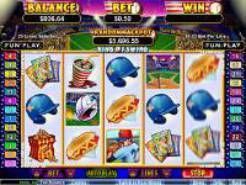 Current Jackpot
$2,558.18
Play Now
The King of Swing slot is a baseball themed game that brings scatters, wilds and a decent jackpot to players in a neatly wrapped cartoon package. It's fun and features all the symbols that you would expect of a baseball themed game, including a batter's helmet, a trophy, peanuts, a catcher's mitt, hot dogs, soda, an MVP card and more. What's special about this particular slot game is that it doesn't have any of the generic card symbols, and instead relies fully on unique baseball-inspired symbols that gives this a more authentic and enjoyable theme.
Bet Big or Small
As a player testing out the King of Swing slot game you can bet big or you can bet small, it all depends on how comfortable you are risking money. There are 25 pay lines and you can activate 1, all 25 or something in the middle of those two figures. You'll bet a single coin for each play line that you want to try for, and coins are valued at between $.01 and $5.00. This leaves you with a massive bet range of between a single penny and $125 on every spin of the reels. Players of all levels can try out this slot game comfortably, and that's good for everyone.
Modest but Frequent Payouts
This slot game pays out money quite frequently, but don't expect to get rich off of a big win from it. The top jackpot from this slot game is a pretty modest 5,000 coins, which is $25,000 if you're risking $125 per spin. That's a decent payout, but few players will be gambling at that level. While the top jackpot is pretty low, the second level jackpot is nearly as valuable with 4,500 coins, making it pretty easy to trigger one of these two major wins.
Random Jackpot
The game also features a random progressive jackpot, a common feature with RTG slots. This prize is paid out after some spins of the reels, and there's no way to predict when it's going to happen. The fact that there is no way to predict when the progressive jackpot is going to pay makes playing the game more enjoyable and exciting.

The King of Swing is a fun slot game that doesn't have many special features like some other video slots do. We like that the game features all custom symbols instead of the traditional card filler items, but the jackpot payouts are a bit smaller than what's offered by many online casinos. Still it's a fun experience and a slot that some players will surely enjoy.