Jumping Beans Slots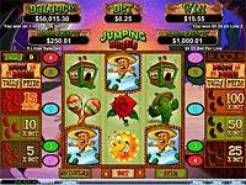 Current Jackpot
$6,974.51
Play Now
Jumping Beans is a spicy online slot game with real character. It shows off a whole host of colorful Mexican themed slot characters that include tacos, maracas, the guitar, and a whole cast of bean characters. These characters are where all the specials come from and they offer some nice bonuses that you can really take advantage of.
Mr. Bean Wilds
Mr. Bean is the wild symbol in this slot game, and he also triggers one of the best bonuses that you can get. Get three of these symbols on a payline and you'll unlock 1,000 coins instantly. Get one or two of the wilds along with another symbol and that prize will be completed and doubled in value. Mr. Bean is a powerful tool that can help you win much more than you'd be able to without the help.
Betting
This slot game has just three reels and a total of 5 paylines. That means bets are limited somewhat, but you still have a range of betting values to work with. Designate your coin value first. You can choose between $.01 and $5.00 for the value of a coin. From there you can decide to bet on between one and all five of the paylines of this slot. Once you do that you've defined your bet value entirely. Enjoy choosing between $.01 and $25.00 for your overall bet amount.
Auto Nudge
Jumping Beans has a special auto nudge feature that moves down the Mr. and Mrs. Bean characters down into the screen completely if they are up above the screen after the reels stop. After the symbols show up, they will be nudged down farther before stopping to complete the play. If you get three or more of the Mrs. Beans symbols on the screen you can unlock a special bonus round for the game.
Progressive Jackpots
This slot also features two different progressive jackpots that are randomly triggered as you play. Jumping Beans gives you two chances to win after every spin of the reels, and with a bit of luck you could walk away with one of the constantly growing jackpots after your turn is over with.
Free Spins Bonus
Get three of the Mrs. Beans symbols on the reels of the slot machine and you'll immediately be rewarded with 10 free spins. Mrs. Bean also serves as a scatter symbol, which means you'll enjoy a scatter payout at the same time. The free spin round will give you a chance to win additional prize money, all without having to spend anything at all to do so.

Jumping Beans is a fun online slot game with enough personality to help it stand out. It's an interesting blend of modern video slot, and classic slot. The game limits the total number of paylines to 5, and keeps it to just three reels, but tosses in enough different features to keep any player busy. The end result is a cool online game that's fun to play.