Small Fortune Slots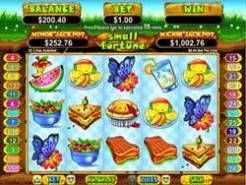 Current Jackpot
$1,168.17
Play Now
One man's trash is another man's treasure, or in this case one man's picnic is a lifetime of treasure for hungry ants! Small Fortune is a fun slot game that's all about ants benefitting from some unknowing person's picnic. During the slot game you'll notice teams of ants climbing onto muffins, fruit salad, sandwiches, watermelon and more, all while scavenging food for the coming days. It's not clear whether Small Fortune is worth playing or not at first glance, but it's certainly an interesting slot with a unique theme.
Pretty Limited Betting
There is a decent range of bet amounts to pick and choose from in Small Fortune with minimum coin values being just $0.01 and maximum values being $1.00, but they're a bit more limited than what's available on other slots at the upper range. With a total of 25 available paylines, no small stakes players are likely to be upset with bet levels available at just $0.01, but high rollers might not get too excited at a maximum spin amount of just $25.00. Either way, there is a range to work within for this slot game, making it easy to set a bet that you'll be comfortable with.
Grouped Wilds
While many of the features in Small Fortune are pretty standard, the wilds are something different about this slot that stand out nicely. Getting an ant wild on reels 1 or 5 will transform them into large grouped wilds. Doing so gives you many additional wilds to work with, and makes it possible to win large combinations of prizes on a single turn.
Free Spins Galore
Free spins are very simple to unlock in this slot game. To do this you just need an ant on reel 1 or 5 and a picnic basket on one of the central reels. Do this and you'll receive 5 free spins for each picnic basket that shows up, for a maximum of up to 45 free spins if you're very lucky and get picnic baskets all over the place. During the free spin rounds you'll enjoy multipliers on your wins, which makes things more interesting to say the least.
Random Progressives
Small Fortune packs in one more hidden gem for players to take advantage of and that's the progressive jackpots. These jackpots are paid out randomly and there are two of them to take advantage of. The first is the minor jackpot which pays out in the $100's and then there is the major jackpot that pays out in the $1,000's. Both are nice to win and both trigger randomly as you spin the reels. Small Fortune is a fun online slot with such a unique theme that it stands out above all the rest. Even though the bonus game is a bit weak compared to others available, the grouped wilds and beautiful symbols help to make this game a winner anyway. There are some very nice wins available and as long as you aren't a high roller looking to make huge wagers on a slot game, this one is probably worth a try or two.