Hillbillies Cashola Slots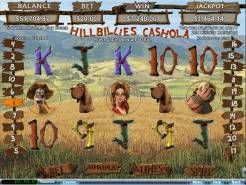 Current Jackpot
$6,406.56
Play Now
Hillbillies Cashola is a hilarious online slot game that puts you face to face with some of the funniest characters and symbols that you're likely to see with an online slot game. You'll see a wide range of hillbillies, farm animals and more that all bring this fun theme to life in this interesting online slot game. The game offers a good range of features, and some solid wins as well. We were compelled to review this slot game after seeing all that it has to offer, and below we'll go into detail about what you can expect from the game itself.
A Beautiful Design
Hillbillie's Cashola uses a very nice design that makes it stand out compared to most other slot games. It's set over top of a field with some hills in the background and has a very open and clean look to it with the symbols floating over top of the backdrop without any reel markings at all. We love the design of this slot game, and can't stop looking at the game overall.
Multiplier Wilds
The most exciting feature of this slot game are the hillbilly wilds. These wilds appear randomly on reels 1, 3 and 5 and they will help multiply any wins they help complete. The two outside wilds apply a 2x multiplier and the central wild applies a 5x multiplier. Getting all three of them at once along with another symbol will give you a 20x multiplier on any prize that they help create together. The biggest wins that you can get from this slot game include all the wilds.
Free Spins
Any time you get two or more of the wild symbols together on the same reel you'll trigger a free spin round. In this round you get eight free spins where all prizes are doubled in size. By getting into this round and then getting some wild symbols out on the reels you can get some very interesting to prize payouts.
A Random Jackpot
There's a random progressive jackpot in Hillbillies Cashola that you can trigger at any time that you are playing the slot game. If you take the time to really test play through this slot you could get lucky enough to trigger the jackpot and win more than $1,000 with enough luck. Hillbillies Cashola has enough features to keep things interesting and the very best thing is that they aren't all tied to bonus rounds. You can win substantial prize payouts just during the regular play with this slot, so you always have something to look forward to while playing. It helps that this slot is beautiful looking as well, which is why we highly recommend it to everyone.