Field of Green Slots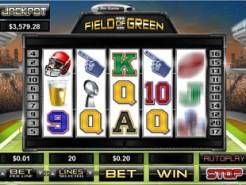 Current Jackpot
$2,177.57
Play Now
Field of Green is an NFL themed online slot game with a nice looking design and a range of exciting features. From the moment that you begin playing this game you'll see a range of bold images that are all related to the sport of American Football. We decided to carefully review the game and to talk about what we like and don't like about it while doing so.
Generous Payline Setup
Unlike most online slots that pay in only one direction, either right to left or left to right, Field of Green pays out in both directions making it easy for gamblers to win more often. The dual direction payout setup means that you really have nearly twice as many chances to win cash while playing the slot and it helps make those 20 paylines work a bit harder for you.
Betting to Start
There are 20 paylines and you are free to pick and choose how many of them you want to bet on at a time. Choose between 1 and 20 and then start placing wagers on the lines depending on the full amount you want to bet. This slot game offers a good bet range, letting you risk as little as $0.01 and as much as $100.00 with each turn of the reels. No matter how much or how little cash you want to put on the line, you can do so with this slot game.
The Double Wilds
Wilds are powerful tools that can help you win more generous prize payouts as you play Field of Green. They take the place of everything other than scatters, and they will double any prize that they are part of. That means you need wilds to get the biggest payout possible when playing at this slot game.
Scatter Free Play
Three or more scatter symbols is all it takes to get the free spin round of this slot game going strong. Once you have those scatters in place you'll enjoy 25 free spins and a whole lot of opportunities to win big. Play through the rounds and you'll be amazed at how many top paying prizes can show up as you go.
Progressive Payout
In Field of Green there is a progressive jackpot that you can unlock at random with just the right level of luck. There is no proven method to trigger the jackpot, it's just paid out at random after any turn of the game. Just keep playing and you'll have a chance of getting the jackpot money when you least expect it.

Field of Green is a nice looking slot game with a whole lot to offer. If you're searching for a game that's going to give you decent prize opportunities and that looks pretty nice, this is the slot for you. Play through a few rounds and you'll very quickly see all of what this game has to offer, and it's pretty impressive to say the least.