Mayan Queen Slots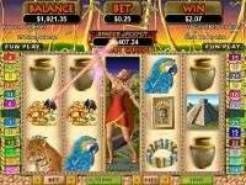 Current Jackpot
$3,601.58
Play Now
Mayan Queen is a beautiful online slot game that boasts some pretty nice features and a unique set of symbols to really help push the theme of the game. We were taken by the beautiful Mayan Queen character as well as some of the other cool artifacts that are all interwoven into this online slot game set over top of a beautiful sunset backdrop. Looks alone don't make a slot game though, which is why we decided to comprehensively test out Mayan Queen to get a good feel for the game and whether it's worth playing or not, below are our results.
Wagering Options
The very best slot games make it easy to set a wager amount that you're comfortable with, and Mayan Queen does a good job with that. The slot game makes it possible to wager as little as $0.01 and as much as $125.00 all by adjusting the number of lines that you're wagering on, and the amount of money that you're placing on each of the lines as well. Set an amount that you can handle paying for over a long period of time, but make sure that you're wagering enough to make the prize wins worthwhile as well. When you've achieved the proper balance the slot game will be more enjoyable and worthwhile.
The Queen Wild
The Amazon Queen is a powerful wild that shows on just the central reel of this slot game. This wild symbol can be stretched across the entire reel and acts as a powerful multiplier to help you get as much as possible from your prize wins. Anytime you unlock a prize with help from this symbol you'll actually receive a double payout, which is exactly why you want to keep an eye out for wilds while you play.
Huge Scatter Wins
Most scatters pay out decent prizes, but not enough to get really excited about. That's not the case with Mayan Queen. In this online slot you can get scatter payouts between 1x and 500x your total wager amount, giving you access to wins as large as $62,500! That's certainly a prize worth getting excited about, and even if you don't manage to get five scatters for a big win, you can still unlock the high paying free spin round if you get three or more of these helpful symbols.
Expanded Wild Free Spins
Get three or more emerald scatter symbols and you'll trigger the free spin round of this online slot game. You'll enjoy a total of 6 free spins, and during each of these rounds the Amazon Queen wild will sit expanded over the entire third reel of the slot. There's a chance that you can trigger additional free spins while going through these rounds as well if you manage to get three or more scatter symbols once again.
Random Prize Potential
Mayan Queen offers plenty of prize opportunities, and there's also a powerful random jackpot that you can win with a bit of luck. This progressive jackpot grows larger and larger over time, and you could trigger a win from it after any spin of the slots. Just keep playing through round after round and you could be the lucky winner that takes home thousands.
A Huge Standard Jackpot
Mayan Queen offers a very impressive standard jackpot with the right combination of symbols. If you get four temples along with a Mayan Queen wild you could unlock a massive win of 30,000 coins. This is a win that you can trigger during any point while playing the slot, and it's worth as much as $150,000 if you're wagering the top amount per coin.

Mayan Queen is a powerful online slot game with beautiful graphics and decent features. It's fun to play through rounds of this slot, and it's worth testing it out at least once if it seems at all interesting to you. There's a reason that so many gamblers are giving this slot a try!