Fruit Bowl XXV Slots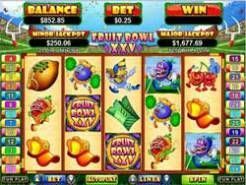 Current Jackpot
$4,756.97
Play Now
Have you ever wondered what it would be like if you could combine the NFL Super Bowl with a bunch of fruit? Us neither, but that's exactly what you get with Fruit Bowl XXV the online slot game! It's a unique slot that shows off a bunch of fruits shaped like different elements from the Super Bowl. You have dancing cherry fans, a lemon transformed into a football, a banana quarterback, blueberry cheerleaders and some other very interesting characters. This slot game is charming based on its theme alone, but that's not the only reason that you'll want to play along. Take some time to get to know the slot game and you might decide it's worth a try through or two, that's what our hope was when reviewing Fruit Bowl XXV down below.
Betting on the Winner
To initiate this slot game you need to place a wager. Wagers are set out on the different available pay lines and there are 25 of them in all. Each of those lines can hold a wager between $0.01 and $5.00, but it's up to you to decide what lines to play and how much to put on them. Set the line value up or down and choose the number of lines to make your total bet amount. Bet amounts can vary from $0.01 per spin to $125.00 per spin so choose carefully.
Valuable Mr. Grape
Mr. Grape is the most valuable symbol in this Super Bowl slot game and is worth a stunning 7,500 coins when you get five or more of the symbols. Not only is this symbol highly valuable, but it serves as the wild as well helping you complete different paying combinations as you play through the rounds of this slot game.
The Fruit Bowl XXV Feature is Exciting
You'll get a taste of actual football gameplay when playing the Fruit Bowl XXV feature if you manage to get three or more of the scatter symbols out on the reels. Once you have these symbols you'll start the round and try to get as many free spins as possible. It's up to you to decide whether you want to dodge right, dodge left, go under or go above each of your opponents. For each one that you best you'll receive 5 free spins and you can keep going until you get beat.

Fruit Bowl XXV is a unique slot game to say the least and it offers a lot to gamblers that want something different to play. Give it a try and you might be surprised by all that it has to offer. If not, at least it's a new and exciting slot for you to try out.