Golden Lotus Slots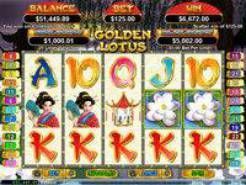 Current Jackpot
$1,715.67
Play Now
Golden Lotus is clearly an Asian-inspired slot game, but it has a lot of character thanks to the creator's use of beautiful scenery and nice looking cartoon symbols. Together, these two features help to make the slot game very appealing to look at, and that's before you even get into the feature set of the game itself. We thought this slot looked like it had a lot of promise, and that's why we decided to put together a full review for interested gamblers. Keep reading to learn what we found out about Golden Lotus.
Choose a Comfortable Wager
It's very important to be comfortable while playing an online slot game, which is why the wagering options are so important. Depending on your bankroll certain wager amounts will be too high or too low to be comfortable for you. We were impressed with the range of options available while playing Golden Lotus. Low stakes gamblers can risk as little as one penny while playing through round after round and they won't have to worry about losing out on too much cash. High stakes gamblers that want to shoot for the highest prize payouts can go for some seriously good wins by risking up to $125.00 over the slot's 25 reels with $5.00 wagers on each and every one of them. As long as you can comfortably wager within that range, Golden Lotus is a good game for you to try out.
Biggest Win Opportunities
There are two high paying symbols to look out for while playing Golden Lotus, the Golden Lotus symbol or the Logo symbol. Both of these can trigger the maximum 8888 coin jackpot payout if you get a combination of five of them. The Golden Lotus is the wild of this slot game and can help you trigger all sorts of prize payouts as long as they don't involve the white lotus scatter symbols. The Logo is the highest paying symbol and can trigger the 8888 jackpot on its own if you manage to get five of them. After the Logo symbol is the Geisha symbol, which is worth up to 1,250 coins when you get five of them.
The High Paying Scatter
The real star of Golden Lotus is the white lotus symbol. This symbol is the scatter and will pay up to 500x your total wager amount when you get five of them. If you manage to get five scatters, you can win more than the maximum jackpot of the slot, which is why most players are hoping for scatters more than anything else. Not only that, but the scatters will trigger eight free spins if you get three or more of them. The free spin round comes with a multiplier between 3x and 5x, helping you unlock the biggest possible wins in the game if you manage to unlock the top jackpot during these rounds.
Chinese Garden Bonus Round
The very best feature of Golden Lotus is the special Chinese Garden bonus round. To trigger this special bonus you need to get three or more of the Golden Lotus symbols. Do that and you'll be taken to a special bonus screen to start up the game. During the game you are charged with picking four of the golden lotus symbols. Behind each selected symbol you'll enjoy a prize payout worth up to 100x your wager amount, or you'll enjoy up to 20 free spins. In the end you'll get all your prize money and then you'll be taken through the free spin rounds that you've accrued. During these free spins any white lotus symbol is transformed to a golden lotus or a Logo symbol to help you unlock some of the highest prize payouts possible. All prizes are tripled during this special feature as well, which means that you can unlock some of the biggest prize payouts during these rounds.

Golden Lotus is a powerful online slot game if you manage to trigger some of the special features of the game. It's definitely worth playing if you want to win big, and serious gamblers have a lot to look forward to with a bit of luck on their side.