Hidden Riches Slots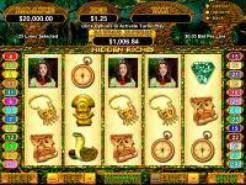 Current Jackpot
$1,005.22
Play Now
Hidden Riches slots is a cool online RTG slot game with a nice hidden temple, Indiana Jones type explorer theme to it. The game has a bunch of temples, of explorers and all sorts of cool artifacts that you can unlock to win some prizes. It comes with quite a few special bonuses and pays out some nice prizes along the way as well.
Betting Limits
Most slots today have a range of betting limits that you can work with to come up with an amount you are comfortable with. You can start off low and work your way up, and that's exactly how it is with Hidden Riches. You are free to bet between 1 and 25 coins, and you can set the coin amount to $.01 or move it all the way up to $5.00. With the maximum coin value on all 25 coins you can bet as much as $125 and that's a pretty significant wager on one single spin of the reel. If you're comfortable risking that much money you can win a while lot from the game with a bit of luck.
The Wild Multiplier
While playing Hidden Riches, one of the first things that you'll notice is the wild symbol serves as a multiplier as well. When one or more of the adventurer symbols shows up on the reels and works to help you complete a prize payout, that prize is effectively doubled. That means you can get even more for your money and take your prize winnings to the next level.
Decent Top Jackpot
Hidden Riches is a straightforward slot game, but that doesn't mean there's nothing you can get from the game. You could win as much as 10,000 coins if you unlock the top jackpot. That's a pretty significant prize and something that most people would be excited to win as well. If you're trying to get as much money as you can from the slot this prize will help you get started for sure. It comes from getting four of the temple symbols as well as a wild symbol to double the temple prize.
Free Spins and Mystery Prizes
There are a few other special features in this slot game other than the multiplier wild. Get three or more of the wild symbols and you'll unlock a free spin round where you get between 5 and 25 free spins. Get three or more of the scatter symbols and you'll be taken to the mystery prize round where you have a chance to win some cool additional prizes from the game. Either way you have more ways to win than you might realize when you play this video slot game.