Ocean Dreams Slots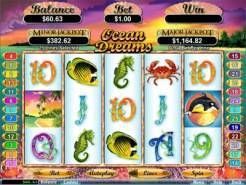 Current Jackpot
$4,857.07
Play Now
Head out to paradise and hopefully win big with Ocean Dreams, a popular online slot game from Realtime Gaming. This online slot is themed around an island that's centered is paradise. You'll see a variety of sea creatures, and powerful prize combinations all set against the backdrop of a beautiful sunset, an underwater backdrop and some very nice art. The game looks great, but does it have the features to make it worth testing out? That's what we're going to try and figure out in this review of the slot game.
Wagering
There are a wide range of wagering options in this 25 payline slot game. With 25 different lines to gamble on, you are free to wager as much as $125.00 per spin of the reels. The minimum amount that you can risk on any one payline is just $0.01 and the maximum is $5.00, so you can bet $0.01 per spin, or you can go all the way up to $125.00 per spin by adjusting the bet up or down.
Huge Win Potential
While Ocean Dreams might not seem like it pays out very large prizes at first glance, it actually offers one of the largest wins possible with a standard video slot game. It's possible to walk away with as much as $200,000 from this slot game if you get lucky enough while having a top wager in place as you go through the rounds. Players that manage to get five of the golden dolphin symbols during the special feature of the slot game can walk away with 40,000 coins, which is a whole lot of cash no matter what level you're wagering at while playing.
The Powerful Wilds
During the standard rounds of the game orcas serve as wilds that will help to complete most prizes for you. These basic orca symbols are also worth a whopping 10,000 coins if you manage to get five of them on the same payline. There is also a golden orca symbol that can show up on the central reel of the slot and will take the place of everything, including the standard wild. This symbol will double any prize that it helps create and can help you get the maximum standard round jackpot of 20,000 coins with four orcas and the golden orca. The wilds show up frequently and play a major role in helping you get some of the biggest wins that you can from this slot game.
Random Jackpots
Along with all the other features that Ocean Dreams offers gamblers, there are also two different random progressive jackpots to be won from the slot game. As you play through the rounds you'll have a chance to unlock either of these jackpot payouts, which is very exciting and will give you something to look forward to even if you don't get a prize winning combination from the reels.
Island Free Spins
The Island symbol is the scatter in this online slot game and also helps to trigger the free spin feature of this slot. Get three or more island symbols and you'll enjoy free spins between 10 and 100 rounds depending on the number of islands that triggered the feature. During the free spins round all the standard Orca wild symbols are transformed into golden Orcas and you have a chance to get 5 golden orcas worth 40,000 coins to win the biggest possible jackpot offered by this slot game, winnings much higher than most other slots will offer you.

Ocean Dreams is a powerful online slot game with plenty of features and a very nice theme that draws players in. Overall, it's an exciting game that's worth trying out at least once. If you want to try a slot game that looks nice, and offers some seriously big payouts you should give it a try. You could win as much as $200,000 from this slot if you're willing to wager the top amount per payline.