Hockey Hero Slot Game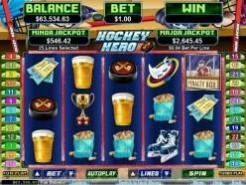 Current Jackpot
$1,871.77
Play Now
You could be a Hockey Hero and come out on top by playing the reels of this unique ice-themed slkot game. It shows off a host of unique symbols that are cool to look at comes with fitting bonuses that will make you feel like you're experiencing an actual hockey game.
Look and Feel
Hockey Hero slot goes all out to bring its unique theme to life. You'll see pucks, skaters, goalie masks, peanuts, tickets, skates, beer and more that all come together to remind you what it's like to go and watch a good hockey game. This slot doesn't just look good though, it also offers a bundle of features worth paying attention to.
Beware of Wilds and Scatters
Like any good modern video slot Hockey Hero has a wild symbol and scatters to look out for. The hockey player appears on just two reels and serves as a wild and double multiplier to help boost up your prize wins as you play along. The penalty box is the scatter symbol that pays out automatically when you get two or more out on the reels, but it also serves as the tool to unlock the special free spins round where the really exciting prizes are paid out.
The Penalty Box Free Spin
Once you're in the penalty box free spin round you're against the clock. You want to avoid clock symbols in hopes of getting the maximum of 18 free spin rounds. When two or more clock symbols appear on the reels the round ends instantly and you're back to the standard game once again. During the free spin rounds the peanuts symbol is removed first thing and additional symbols are removed from play the longer you go into the round. This makes hitting winning symbol combinations easier to do. If you go through the whole free spin round without winning anything at all, you'll enjoy the Win-Win feature that gives you a 200x prize based on your full bet value, which is pretty significant all on its own. If you manage a small win but it's less than 2x your original bet value you'll get an added 20x your bet tacked on. If you're between 2x and 5x the bet amount by the end of the free spins round you'll get an added 10x prize added to your final win. Overall you'll walk away from the free spin round with something and it's always worthwhile.
Unlock the Jackpots
There are also two different jackpots that you can randomly win while playing Hockey Hero. There's a minor and major jackpot and they're both randomly triggered by players. You could get lucky an unlock either of these two prizes at any time, and that's something to really get excited about. Hockey Hero is a cool slot for hockey fans looking for something different. The penalty box free spin feature is exciting and shows off quality music as you go through it, and there are some pretty significant prizes to be won as you play.