Swindle all the Way Slots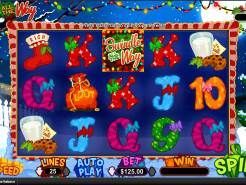 Current Jackpot
$1,066.61
Play Now
Be apart of a Grinch Stole Christmas type of story as these two robbers try and make off with all the gifts on Christmas night in Swindle All the Way the slot game . This game takes a hilarious look at Christmas and shows it from the robbers point of view. It's fun, it's light hearted and it's a pretty nice looking slot game at first glance. That doesn't make it a good game though. We dug a bit deeper, put some credits of our own into the game and got a real feel for this online slot so we could let everyone know whether it's worth a play or not.
Bet Big or Small
This 5-reel slot game has a total of 25 paylines, and you can bet a minimum of $.01 per spin and a maximum of $125 per spin. No matter what gambling level you are comfortable with, there's an option for you to choose with this slot game.
The Cheerful Free Spins Round
Get three or more of the thieves symbols out on the reels and you'll unlock a special free spin round of the game. Before you can start enjoying all those free spins though, you need to select your multiplier and the total number of spins that you get. To do this, look for robbers in some of the 12 different windows. The more robbers you find, the more free spins you'll enjoy and the better your multiplier will be. It's possible to get up to 60 free spins and a 33x multiplier from this special bonus round of the game, which can easily stack up to huge potential prize payouts in the end. Once the free spin rounds begin you can add on additional free spins by finding robber symbols, and you can also enhance the spin rounds with scatters that you find along the way, making this one of the best free spin rounds that you'll find in an online slot game.
Even though Swindle All the Way only offers a single bonus round, it's generous enough to make the game more than worthwhile to play. You can win huge sums of money from the bonus round if you get lucky enough to set up a large number of free spins with a good multiplier. You could end up with much more money than you started with from the slot game, and even if you don't this holiday themed slot is a whole lot of fun to play and is worth the experience alone.