Red Sands Slots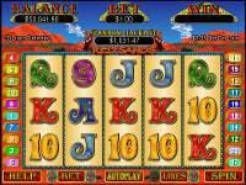 Current Jackpot
$1,003.62
Play Now
Red Sands is a slot machine found online based on the animals found throughout the Australian deserts. The game looks really nice with a bright red desert in the background, and a whole bunch of highly detailed animals on the reels themselves. As you play through the rounds of this slot you'll discover a range of features and potential prize payouts to make your experience a lucrative one. We were impressed with the slot, but you'll have to keep reading to find out exactly what it offered that we enjoyed.
Betting Options
We weren't too impressed with the betting options on Red Sands because we found them a bit limited compared to the higher end slot games. With that said, there's plenty of variety for low stakes to mid-range gamblers, just nothing for the high rollers out there.
A Sizeable Jackpot
There's a maximum jackpot of a stunning 10,000 coins on Red Sands that you can unlock if you're lucky enough to do so. That's a potentially huge payout to all the players that aren't afraid to bet a large amount of cash, and to all the more conservative players, 10,000 coins is still worth a decent bit of cash. With a top coin value set you could walk away with $10,000 just from winning the jackpot during the standard rounds of the game.
The Wild Doubler
The Kangaroo symbol serves as the wild in this slot game and it will take the place of any symbol other than the scatter. Get it in place of another symbol to complete a winning combination, and that combination is instantly doubled in size. That's why you'll want the kangaroo to show up as often as possible as you play through the game.
A Random Jackpot Opportunity
We've already established that the standard game jackpot is pretty lucrative, but that's not all there is to look forward to. There's also a pretty solid random jackpot available to the lucky few that manage to trigger it. This jackpot sits in the thousands of dollars typically and it will only grow over time until a player unlocks it. The jackpot doesn't unlock for any specific reason, it just triggers randomly at the conclusion of a spin.

Red Sands has everything that you would expect from a high quality online slot game. It comes with decent betting options, plenty of special bonuses and features and a good look that draws you in. It gets a solid recommendation from us, and is a good introductory slot game for new players looking to get started without too many complicated features to learn.