T-Rex Slots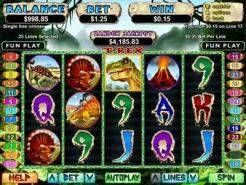 Current Jackpot
$2,735.58
Play Now
Travel back in time to a prehistoric era when Dinosaurs roamed the earth in T-Rex the online slot game . This nice looking slot features a lush backdrop, animated T-rex symbols and a whole host of dinosaurs that make things interesting and unique as you play along. The 25 pay line slot packs in some nice features, but it's impossible to say if they're enough to make the game worth playing or not without taking a closer look. That's why we took the time to do a complete review of T-Rex slots.
Adjustable Betting
There are a total of 25 paylines, and each line can be assigned a bet from $0.01 and $5.00. Set the bet that you're most comfortable with and begin playing on this slot game. You can easily risk as little as $0.01 or as much as $125.00.
T-Rex is the Wild
The T-Rex symbol is the wild in this slot game and will only show up on reel 3. When the wild appears and helps complete a winning prize combo, the prize amount paid out is doubled instantly. That's pretty darned good on its own and the T-Rex symbol is important for unlocking some of the best prize payouts in this online slot game.
A Random Progressive Jackpot
With every spin there's a chance to trigger the T-Rex progressive jackpot payout. This is usually a few thousand dollars and is pretty exciting as a random win, but won't be the main reason for playing through this slot game.
Free Spins Feature
Get three or more Dino eggs to unlock a nice prize payout, and also to unlock the free spin feature of this online slot game. You'll be tasked with picking an egg, and can get up to 10 free spins to play through. During those free spin rounds you don't get any special multiplier for your prize wins, but any dinosaur that shows itself on the reels will be eaten and replaced by a present T-Rex symbol. That means huge wild combinations are possible and 10,000 coin payouts are very frequent during the free games round of T-Rex. Though T-Rex looks pretty nice, it's a bit bland when compared to some of the other slot games available today. We recommend testing it out to see if it's a game that appeals to you, but there are smaller payouts and far too few features for many people to stick around for very long. Still, if you manage to hit the free spin round of this slot, it can be very lucrative, and the slot looks really nice. If you like the looks, and are patient enough to get to the free spin round of T-Rex, there's enough to look forward to to make the game worth playing.