Triple Toucan Slots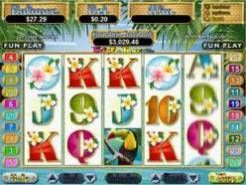 Current Jackpot
$1,008.97
Play Now
Triple Toucan is a tropical themed slot game with a look that stands out nicely. The pastel colored symbols, and the beautifully drawn background and sunset symbols give you something nice to look at the entire time you gamble at this slot. To top it all off there's a generous random jackpot shown off at the top of the reels the entire time that you play the game.
The Wild Toucans
As the name would suggest, Toucans are important in Triple Toucan slots. In the game they serve as the wilds and they will triple prizes that you can create with them. For that reason you'll constantly be on the lookout for this symbol in the hopes that you'll get as much prize money as possible from it.
Placing a Wager
The wager that you make in this slot game determines what you risk and what you could potentially earn while gambling. On the low end you can wager as little as $0.01 on a single line and only risk a penny per spin. On the high end you can risk up to $5.00 per line and risk between $5.00 and $100.00 per spin. Either way you have a good range of bets that you can make for just the right combination.
Fruits are the Bonus Key
Fruit symbols serve as scatters in this slot game and they are the key to unlocking free spins and greater prize chances. Get three or more to trigger free spins and added opportunities. With three scatters you'll enjoy 9 free spins, four will get you 15 and five will get you 25. During the free spin rounds all the Toucan wilds expand across the reels and they triple prizes they are part of giving you opportunities for plenty of big wins.
A Random Jackpot
Triple Toucan slots comes with a random jackpot feature that can help you unlock some pretty generous prize payouts. You'll be shooting for potentially thousands of dollars and you don't have to do anything special at all. As long as you're spinning the reels of this slot, you have a chance to win some prize money. Triple Toucan slots is a rock solid slot game with plenty of features to look forward to. It's a fun game and well worth gambling through. Give it a try if you want to play through a fun tropical themed game. It doesn't offer the biggest prize payouts in terms of all the different slots out there, but prizes come often and the bonus round is good enough for the game to be worth at least a try. Give it a shot and you'll see.