Polar Explorer Slots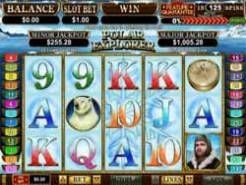 Current Jackpot
$3,343.93
Play Now
You're on your quest to make history and discover something completely new in the frigid frontier land of the Polar North in this slot game, Polar Explorers . This slot shows off Narwhals, Seals, Polar Bears, and a bunch of more standard symbols. Of course it has the basic card symbols thrown in for good measure as well, but it has a nice look to it overall and isn't too bad to play either.
While becoming a polar explorer the first thing you have to do is bet some cash so you can try to win. There are 25 pay lines in this slot game and you can bet up to $5.00 on each of them. That means you can risk up to $125, though you only need to risk $0.01 if you don't want to burn through your money quickly. It's up to you how much money you gamble with, so choose an amount that you're comfortable with and get going.
Big Winner
The explorer symbol is the most important one in this game arguably. Get five of them and you unlock the largest static jackpot offered by this slot with a payout of 5,000 coins. That's massive compared to the next biggest payout from five polar bears, which is still a respectable 2,500 coins. Not only does the explorer symbol serve to give you the best payout in the game, but it also works as the wild and substitutes in for everything other than scatter symbols to help you win prizes.
Guaranteed Feature
Unlike other slot games, this one guarantees that you'll get at least one bonus feature every 125 spins of the reel. To make sure that you get that feature, it actually counts how many turns you go without a feature, and when you hit 125 you unlock the hidden treasure feature. This gives you five chests to look through and you try to reveal the biggest bonus possible. It's a pretty basic feature, but will add to your winnings over time and gives you something to look forward to if you can't seem to get the other bonuses to trigger as you play.
Random Jackpots
There are two completely random jackpots in this slot game that can be triggered at any time. If you're lucky you'll unlock either the minor or major jackpot as you spin through the reels. The minor jackpot is worth $250 and the major is valued at $1,000. Either one can really help boost your bankroll and keep you playing this slot even longer.

Polar Explorer is a cool online slot game that will make you feel like you're moving through the polar north. It gives you a look at some of the creatures that live in the area and also gives you a chance to win some pretty generous prizes along the way. Give the game a try and you might find something that you really enjoy in the process.