Hairway To Heaven Slots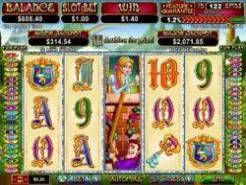 Current Jackpot
$3,032.34
Play Now
Hairway to Heaven probably sounds like a weird altered version of the rock song that so many are familiar with, but it's really just a cleverly named slot game that has nothing to do with Rock and Roll. Instead, the slot is about the fairytale Rapunzel. The game shows off a beautiful maiden trapped in a tower with massive long hair. It also shows a prince that's supposed to climb her hair and come to her rescue. There are quite a few colorful characters on the reels of this slot game, as well as some other unique symbols like keys, mirrors and towers to give Hairway to Heaven its own distinct style.
Wagering
In this slot game there are 20 paylines and you can bet between $0.01 and $5.00 on them. It's important to note that there is a feature guarantee though, so you'll actually pay 20% more per spin to make sure that you get a bonus feature every now and then. That means that your top wager isn't $100 but actually $120.
The Powerful Princess
The princess symbol is the one to look out for when you play Hairway to Heaven. She is the wild, a multiplier and she expands to cover the full reel that she's affecting. When you play this slot game getting a princess symbol means that you have a much better chance of winning something good. The princess only shows up on the central reel, but she covers the whole thing and will double any prize that she helps complete. She takes the place of all but the scatter symbols, and will almost certainly improve your chances.
Special Bonus Features
Getting three or more of the tower symbols is all it takes to trigger one of the many different special bonus rounds in this slot game. Once you do that you'll have a few different exciting opportunities to look forward to. Damsels in Distress is one of the bonus features, and gives you eight free spins to play through. During these rounds the princess can appear on all three of the central reels, giving you even more chances of winning nice-sized prizes. It's also possible to re-trigger additional free spins with the right amount of luck. Princess Pays is another feature that gives players 10 free spins. In this bonus game the princess appearing rewards you with another free spin. Any prize combinations that make use of the princess are worth 3x instead of 2x in this round as well. The one main difference is that the feature cannot be triggered once again, so you just get the 10 spins plus whatever additional spins you get from princess symbols. Finally, there is the Hairway to Heaven bonus feature. This feature gives you between 5 and 20 free spins and has a multiplier that starts at 1x and climbs by one with each free spin. It's possible to get as much as a 20x multiplier during this special game, giving you some very large potential wins.
Decent Top Payout
You can win up to 4,000 coins during the standard rounds of Hairway to Heaven with help from the princess multiplier. That's a whole lot of cash worth as much as $20,000 and there are plenty of other potential prize payouts that are worth similar amounts.
Win Randonly
Hairway to Heaven features two random progressive jackpots that you can win after any spin. You just spin the reels and can be presented with the minor or major jackpots. These pay out in the hundreds or thousands depending on the one that you win, and you'll never know that a win is coming until you've unlocked one.
The Feature Guarantee
Hairway to Heaven comes with a special feature guarantee that makes sure you are getting to enjoy some of the many features offered by the slot. This guarantee costs you 20 percent with every spin that you make, but it means that every 125 spins you're guaranteed to trigger a bonus feature if you haven't done so already. This guarantee keeps the pace of the game up, and gives you something to look forward to. It's also a good reason to go through at least 125 spins each time you play. Hairway to Heaven seems silly on the surface, but it's a very feature-rich slot game with a lot of money available to win. If you're serious about gambling and you want to have the chance to win big while having a whole lot of fun, this slot is worth a try. It's not for everyone, but we really enjoyed our time with this video slot.