Honey to the Bee Slot Game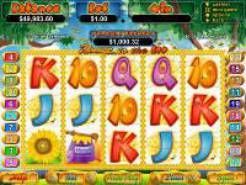 Current Jackpot
$2,524.83
Play Now
Modern video slots with cutre graphics often offer some of the best prizes and make for exciting gameplay as well. That's certainly the case for the Honey to the Bee slot game from RTG. This game features wilds, scatters, a special free spin round and a bunch of other nice perks that make it worth giving a try.
Make Your Bee Bet
Start off this fun filled game by placing your initial bet. Low stakes players can gamble as little as $.01, but doing so will limit their opportunities to win prizes on each spin. The more affluent gamblers can bump the bet amount up as high as $100, and doing so will unlock the potential to win some seriously large prizes over time playing this slot game.
A Fun Design
There's nothing like cartoon graphics to bring a game to life, and the Honey to the Bee slot game relies on cute bees, flowers, honey and hive graphics to add that extra special tough to the game. Everything is brightly colored and the background looks like a nice sunny day. Overall, Honey to the Bee is a relaxing and enjoyable slot game to play, and that's in large part because of the graphics used for the game.
Make Use of the Wild
There are plenty of lucrative symbols out on the reels, most of them are bee related, but none is more valuable than the working bee. This symbol doubles any wins that it helps create, and it's also the tool to unlock the special free spin round. Each time that you get a working bee symbol on the reels of the slots, you'll probably enjoy bigger bonuses and have more reasons to celebrate this innovative slot game.
The Free Spin Round
If you're lucky enough to get both the Worker bee as well as the Hive symbol on the reels at the same time, you'll immediately trigger the bonus round of the gam.e During this round you'll get a total of 15 free spins to go through that can help you win some seriously large prizes. During the round all your prizes will be doubled as well, meaning that getting the working bee wild will give you 4x your total prize amount. It's one of the best perks of the game and triggers pretty often for most players.
The Random Jackpot
While there are plenty of standard jackpots paid out to players of this slot game, there's also a random progressive jackpot paid out to a few lucky players. This jackpot is substantially larger than most other payouts you'll get from the game and there's no way to predict when it's going to come. Play regularly and you could be one of the lucky players to unlock this great reward. It's worth trying for and one of the main reasons to try this slot game out.