Pirate Isle Slots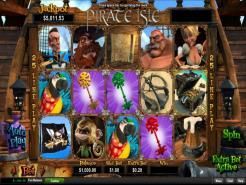 Current Jackpot
$10,922.46
Play Now
If you're sick and tired of being a land lubber, hop on top of your very own pirate ship and start battling for your share of the treasure as you play through each paid round of Pirate Isle slots . This slot game has a series of highly colorful pirates and wench symbols for you to use to unlock the best prizes that you can. There are three top symbols for you to go for and a bunch of additional lower value symbols as well. Overall this game has a lot of character and it's a blast to play through as long as you don't mind risking some cash in the process.
The Skeleton Key Wild
The Skeleton Key is the magical wild symbol that graces the reels of this pirate themed slot game. It's a stacked wild and will fill up all of the center reel. When you complete prize winning combinations using this wild any prize amount paid out is doubled. It's with the skeleton key that you can win the largest prizes that are available in this slot game. Without the wild you'll be limited to significantly smaller wins overall.
Decent Top Payouts
While you play through rounds of Pirate Isle, you'll have a chance to win as much as 2,000 coins or $20,000 if you're betting the maximum amount. That might not seem like a huge win, but these wins are pretty common and you could end up taking home a bunch of money with just a bit of luck working on your side.
Free Spins
On top of solid standard wins, and stackable wilds that lead to wins regularly, there's also a pretty nicefree spin round to this slot game. You can get a bunch of free spins as long as you're placing the extra bet during your spins. During the special bonus round that you get from the extra bet, you can unlock 100 free spins if you get the pirate ghost symbol. Do this and you're almost guaranteed to win some massive prizes over the time of all those spins. Even if you just win small prizes you're going to walk away with a decent boost to your bankroll after all those spins.
Extra Bet
There's an extra bet feature that allows you to place an additional bet on top of the standard bet for a chance to unlock a special bonus round. Put this bet out if you want a chance at the fun bonus game and a shot to unlock a massive number of free spins as well.

Pirate Isle is an online slot game with real heart and it's cool looking too. It will have you screaming AARRGHH at the top of your lungs and you might even be celebrating a big win as well.