Henhouse Slots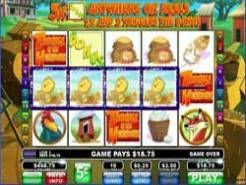 Current Jackpot
$4,032.63
Play Now
Henhouse is a cute farm-themed slot game that's all about life in the henhouse. There are a series of farm creatures from chicks, to roosters to hens and foxes as well as several other very common farm characters. The game doesn't make use of any of the standard card symbols, and instead opts for all unique symbols that gives this slot a much more high-quality feel. We loved the way this slot looked, which is why we decided to write up a full review on the game. Below is our experience with the slot.
Wagering Variety
In our opinion the very best online slots are the ones that let you adjust your wager amount up or down dramatically. Henhouse is a slot game like that and allows players to choose from wagers as little as $0.01 and as much as $125.00 depending on what they are comfortable with. Those wager amounts should be comfortable for gamblers of all different levels, and you are free to choose a wager amount that you can work with while playing the slot every single time.
Pretty Standard Payouts
Henhouse doesn't stand out in terms of its prize payouts because most of the prizes offered are pretty standard, especially outside of the bonus round. The Rooster is the highest paying symbol of this slot and it's worth just 5,000 coins when you get five of them on your payline. That's valued as high as $25,000 if you're wagering the maximum amount, but that's not a massive win compared to some other slots. The truly impressive wins all come from the bonus round of the slot, which is why it's so important to keep playing long enough to trigger the bonus.
The Henhouse Bonus
Get three or more egg symbols during any standard round of Henhouse slots and you'll trigger the special bonus game. In this bonus game there are three rounds where you can build up your free spins and your multiplier to be worth the very most when you get to the free spin round. You do this by selecting from one of nine hens. The hens will have one of three eggs. The white eggs give out standard rewards, the golden eggs give out enhanced rewards and the green eggs end the round. Getting a golden egg will push you to the next round of the bonus so that you can unlock additional rewards. Your goal should be to get as many free spins with as high of a multiplier as you can from the hen rounds before you start spinning for the highest possible win amount.

Other than the bonus round and the attractive graphics this slot doesn't have a whole lot going for it. If you're a long-term player that will keep going until you get the free spin round, this slot is worth playing. Otherwise, it's probably not worth your time. We love the way the slot looks and all the unique symbols, but not enough to make up for the seeming lack of features.