Run Rabbit Run Slots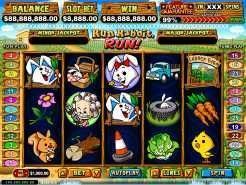 Current Jackpot
$2,261.51
Play Now
Run Rabbit Run is an eerie old song about a farmer shooting rabbits and making pies. This slot is themed after that highly popular song from the 40s, and we're enchanted by the theme of this game. We like the concept behind this game doesn't mean it's worth playing, though. That's why we created this review, so we could tell you whether you should be testing this game or not for yourself. Keep reading and get all the details about this simple little slot.
<h2>A Progressive Slot Game</h2>
This basic slot is a progressive jackpot slot game with Minor and Major jackpots that grow in size for every round you play! That's exciting news because you can win bigger and better prizes the longer you play this game. These two jackpots can be triggered, which means you can win whenever.
<h2>A Real-time Gaming Creation</h2>
Real-time Gaming is responsible for creating this slot game, which means joining an online casino with this game gives you access to 100's of other high-quality slots as well.
<h2>25 Non-Adjustable Paylines</h2>
Each time you spin in this game, you're wagering on 25 paylines. That means you have a total of 25 chances to win.
<h2>Limited Wagering Options</h2>
There isn't a huge range of wagers you can make while playing this game. Instead, you can bet between $0.25 and $25.00 per spin. There are only a few different wager options to adjust through when setting your bet amount with this game. The limited options will keep some players from choosing a wager that they're comfortable with.
<h2>Demo it or Play with Real Money</h2>
This online slot game is easy to access and simple to learn. If you're just getting going with the slot, you don't have to spend your money learning about the game. Instead, you can play it for free and then swap to spending real money after you know you like it.
<h2>Respectable Winning Opportunities</h2>
There's a good range of prize payouts available when playing this slot. The best single-line win you can get is achieved by getting five wilds for 2,500 coins. There's also a prize worth 1,000 coins and lucky players can win up to 50,000 coins in one round by getting a bunch of different winning combinations during the bonus round.
<h2>A Free Spin Bonus Round</h2>
The best feature of this game is the free spin round that triggers when you get three or more carrot scatters. Get these symbols, and you'll have between 0 and 5 rabbits crossing a road and grabbing carrots. Depending on what the rabbits do, you'll get between 5 and 100 free games with 2x or 3x multipliers and maybe even wilds that spread as you play.
<h2>Works on Mobile</h2>
This online slot is designed for mobile gameplay, and it works on tablets and smartphones without players having to download any software. You can easily take this game on mobile for fun from anywhere.
Run Rabbit Run is a well-made online slot, but it's not for everyone. Gamblers searching for simple features and powerful wins can have a good time. Players that want lots of wagering options will be upset, though.