The Elf Wars Slots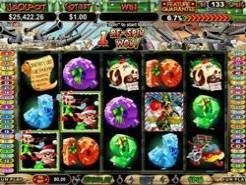 Current Jackpot
$7,197.20
Play Now
Rudolph's gone Rogue and he has a pack of evil elves at his side to help him do his bidding. This group is working hard to disrupt Christmas, and in the Elf Wars online slot it's up to you to help Santa and the good elves save the day. Play through the rounds to unlock some exciting bonuses, and hopefully you'll save Christmas in the process as well. This online slot game is certainly an interesting one, and we had a lot of fun reviewing it. Read on to learn everything about the Elf Wars online slot.
Solid Betting Options
At the beginning of The Elf Wars you need to place a wager before you can start gambling. There are 50 paylines available and all of them can be turned on or off for a huge range of possible line combinations. Once the line number is decided on, it's time to move ahead to the coin value for each of those different lines. Coins can be as little as $0.01 and as much as $5.00. This gives you a bet range of $0.01 and $250.00 to work within, which is a huge value gap to play in, making it easy for everyone to set an agreeable bet amount.
Smaller Base Payouts
We were a bit disappointed with the actual pay table for The Elf Wars. With a top fixed jackpot of just 2,000 coins there is a lack of high payouts to look forward to. The only thing that really redeems the slot is the high rate of prize payouts thanks to 50 paylines, and the fact that there are just so many different bonus features to unlock as you play along.
Huge Bonus Variety
The one area that The Elf Wars excels in the most is the bonus features. There are a total of 4 different bonus features, many taken from other holiday themed slot games. The features include Jackpot Spins Good, Rudolph's Rampage, Santa Strikes Back and Rudolph's Revenge. Each of these features offers some sort of free spin bonus feature, but they are all very different and play differently as well. While we won't take the time to detail each of the bonus games in this slot here, it's safe to say that there is enough variety available to keep most gamblers very busy and satisfied for a long time after getting started with this online slot game.
Bonus Feature Guarantee
The Elf Wars packs in a special bonus feature guarantee to make sure that you get to experience one of the game's bonuses as long as you're willing to play through 150 rounds. Get through 150 spins and a bonus will unlock guaranteed, as long as you haven't already triggered a bonus at that point. This feature unlocks a bonus every 150 spins without one, making sure that you always have a bonus round on the way. The Elf Wars is a top tier holiday slot game with a fun theme. There are few other slots where you can see tough elves, bandits, Guerilla warfare Santas and more coming together for battle, and that's what's so special about this game. Play through it and you'll fall in love with all the colorful symbols, and the many different bonus rounds will give you something to look forward to long after your first session with the slot game.