Diamond Dozen Slots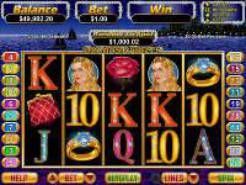 Current Jackpot
$1,022.58
Play Now
Everyone knows that diamonds are a girl's best friend, and they just might be your best friend as well after playing through a few rounds of Diamond Dozen. This slot game focuses on beautiful women, diamond jewelry, glitzy letters and numbers and flowers all while giving you a shot to unlock some pretty generous prizes. The game offers you the chance to win thousands of dollars, and most of the big wins are connected to diamonds in one way or another.
It's All about the Diamonds
With a name like Diamond Dozen it makes a lot of sense that the most valuable symbols in this slot are diamonds. Blue diamonds are the scatter symbols while white diamonds serve as wilds. Together these two symbols will help you unlock some of the best prizes in this game. As you play through the rounds you'll quickly learn to look out for the diamonds and to get excited when they start showing up on the reels because they offer the best payouts and rewards of all the symbols in this slot game.
Free Spins
Get three or more blue diamond symbols to unlock the free spin round of this slot game. You'll enjoy a total of 12 free spins with the right number of diamond symbols, and each prize that you unlock with theses spins will be doubled. Not only that, but during these free rounds there will be additional white and blue diamonds that show up on the reels, for even more chances for you to win big.
Random Jackpot Payout
You could win thousands of dollars from the random jackpot at Diamond Dozen slots. This progressive jackpot just pays out to one lucky player at random after a spin. There's no symbol combination that you need to unlock the progressive jackpot, and it's even possible to get it along with another big win on this slot game, which is pretty darned exciting if you ask us.
Diamond Delight Feature
Players that manage to get three or more white diamond symbols on a reel will unlock the diamond delight feature. This special bonus game gives you a chance to unlock some really nice prize payouts. The player touches each of the diamond symbols while playing the game to reveal a figure. At the end all the numbers are multiplied together and then multiplied by the wager amount to determine a prize payout.
Diamond Dozen slots is a good all-around game to try out. It relies on diamonds and jewelry for its theme, but it offers enough special features to keep things interesting. Between the bonus game, free spins and the random jackpot, you'll always have something to look forward to. Give this slot game a try if you like its looks or just want to try a clean and simple slot with decent features.