Texan Tycoon Slots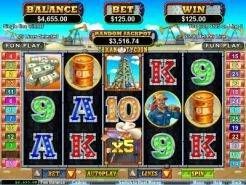 Current Jackpot
$1,857.70
Play Now
Have you ever wanted to become a famous oil tycoon? Well that's exactly what you can do in Texan Tycoon the online slot game. In this game you're goal is to find the motherload of oil, and along the way to the big jackpot you'll build up some smaller wins that are pretty nice as well. We were immediately impressed with the look of this slot game that came out back in 2009, but we decided to dig into the features themselves to learn more about the slot.
Betting in Texan Tycoon
In Texan Tycoon you have 25 different paylines to pick and choose from. You must place a bet on all the active lines, and only the active lines can award you with prize money. By choosing your line bet, and the number of active lines, you can set a highly specific bet amount for this slot game and come up with a bet that you're very comfortable with.
The Wild Multiplier
In Texan Tycoon the wild symbol serves as an important multiplier. When combined with other symbols for a prize win, this wild attaches a prize multiplier of between 2x and 10x to the total payout for a very nice total win. The multiplier is chosen at random, which puts another element of surprise into the slot game.
Oil Well Free Games
The oil well symbol is the scatter in this online slot game and it's used to trigger free spins, as well as prize payouts even when the symbols show on different paylines. The free spin bonus game in Texan Tycoon awards players with up to 25 free spins and can be retriggered enough times to double that number if players get enough scatter symbols during the bonus feature. With each spin of the reels in this slot game, the prize paid out will be tripled in size, for some very juicy wins.
Random Jackpot
In Texan Tycoon there's a random jackpot payout that you can trigger with a bit of luck on your side. This jackpot only pays out to the luckiest players and it can be released after any round of the game. The prize payout can be worth up to thousands of dollars, and that's just another special feature for you to look forward to as you play through the rounds. Texan Tycoon is a celebration of Texas, and also a fun online slot with decent top payouts. It's not a slot game that will make you rich, but it's a good one to pass the time and to give you something fun to do.