Warlock's Spell Slots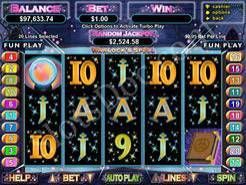 Current Jackpot
$1,648.18
Play Now
Enjoy a world of magic and mysticism with Warlock's Spell the online slot game. This game looks mysterious and exciting on the surface, but it's unclear whether or not it's worth a playthrough just by glancing at it. That's why we made the decision to go ahead and do a full review of this slot game. By taking the time to look over the game closely, we got a better feel for what it has to offer. Give our review a read and you'll have a much better picture of this game and if it's for you or not.
Appearance
Warlock's Spell is an interesting slot game on the surface. It shows off a black backdrop with stars and has a bunch of mystical symbols all over the reels. From the moment that you begin playing you'll see all the witches, the potions, the spell books, the cats and everything else all over the reels. There are even animated graphics between the witch and warlock characters that gives this game that extra special touch.
Betting
Warlock's Spell slots has a total of 20 different paylines, and on each of those lines you can bet between $0.01 and $5.00. That means the slot offers a betting range of $0.01 and $100.00 depending on the amount of cash that you want to risk. That's a big enough range to give you exactly the combination that you're looking for to improve your reel spinning fun.
Watch for the Wilds
The witch and warlock symbols both serve as wilds in this slot game and they're both useful for unlocking some top prize payouts. These two symbols work together to create prize combinations for you to make use of. Play through the rounds carefully and keep a close eye on the wilds to try and create the best combinations that you can with them.
The Special Witch Bonus
The Warlock is the evil character in this slot game and you're playing as the witch to try and beat him. Get three or more of the scatter symbols to unlock this special bonus game. The minute you do that you'll be brewing up a potion that's supposed to stop the warlock's spell. Choose the proper ingredients and your potion will turn green and you'll win the instant prize and get 100 free spins. Get the wrong combination and you'll have to keep going until you get the right one. Each time you choose the wrong ingredients your prize amount dips down and you get less free spins. The minimum free spins you can get is 8, which still offers a decent opportunity to win some nice prize payouts. During the free spin round of this bonus game every single prize that you receive is tripled. That means if you unlock one of the biggest jackpot payouts you'll enjoy three times as much cash for it.
Random Jackpot
Warlock's Spell comes with a random jackpot payout that can be worth thousands of dollars. While you go through the rounds of this game you have a chance to unlock the payout with every single spin. Keep turning the reels and eventually you could get lucky and unlock that surprise jackpot. Warlock's Spell slots is a nice looking game with some pretty good solid features. The bonus game pays out very well and could make you rich with a bit of luck. The random jackpot gives you something else to look forward to no matter where you are in the slot game. Either way, there's a lot going on in this nice looking slot.