Wild Wizards Slots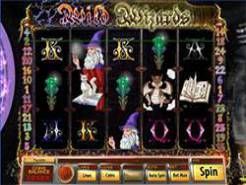 Current Jackpot
$1,546.99
Play Now
Hop into the realm of fantasy with Wild Wizards slots. This game is designed after a crazy wizard that's known for casting spells, and ruling the land. There are castle towers, old spell books, mystical owls and much more in this slot game. It looks like a well-designed story book when you glance at the reels which is why this slot game is so charming. Charm alone doesn't make it worth playing though, which is why we're going to detail its features to help you decide if this slot is right for you or not.
The Wizards
The Wizard symbols are the most powerful in the game and they can show up on all reels but the first. These wilds will show up and expand over an entire reel. These powerful symbols also serve as scatters and can help you unlock a bunch of very nice prizes. Each wizard symbol only counts as a single scatter, even when it's covering the entire reel.
Standard Basic Wins
There are plenty of symbols to win off of during the standard rounds of Wild Wizards, but they aren't the wins that you'll be shooting for. The wins during standard rounds are small, and pretty modest. Sure they could expand your bankroll, but they aren't going to make you rich or even make the game all that exciting even when you bring in a couple decent payouts. That's why most players spin the reels hoping for bonus games, because that's where the real wins are at.
Five Different Bonus Games
In Wild Wizards there are five different bonus games that you can unlock, and each one is suitably rewarding. These bonus rounds are triggered by the Wizard symbol and the book of spells working together. There's Mad Magic, Wizard's Tower, Fireball, Poly-Morph, and Sorcery. Each bonus is differnet, but will help trigger larger wins. In Mag Magic you get five free spins where you can win up to 500 times the normal standard payout while playing. In Wizard's Tower you'll enjoy 8 free spins with the Wizard taking up the entire middle reel the whole time. It's possible to re-trigger this bonus indefinitely and for 8 additional spins each time. Fireball gives you 6 free spins with full Wizard reels at 2 and 4. They re-trigger for 6 additional spins over and over again. Poly-Morph gives 7 free spins with special bonus symbols on the reels and can also be re-triggered for 7 more spins. Sorcery offers 10 free spins with the wizard added to the reels of each spin. It can be re-triggered a single time for 5 additional spins. Wild Wizards is a beautiful slot game and the bonus features really make it exciting to play. You'll have to go through the game in several sessions in order to experience all the bonus features, and each one is worth the wait!