Vulcan Slots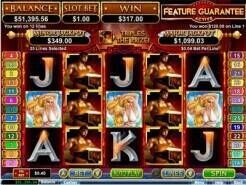 Current Jackpot
$2,201.39
Play Now
Vulcan, the god of fire and volcanoes is an excellent theme for any online slot that's full of life, which is why Vulcan the slot seems like an excellent option. It has decent graphics, a couple of progressive jackpots and comes complete with some pretty nice features as well. Of course, we can't say if it's the perfect slot for you or not without getting to know you, so read on to learn all about the features and our general thoughts for this slot game.
Make a Bet
At the beginning of Vulcan it's up to you to place a wager that you can comfortably afford. For some people that might mean betting the minimum of $0.01 on between 1 and 25 lines. For others it might mean going all the way up to the maximum of $0.25 on between 1 and 25 lines. At the top level you can risk as much as $6.25 per spin, which isn't a huge sum, but it's enough to keep things interesting.
The Powerful Vulcan Wild
The Vulcan symbol in Vulcan serves as the wild and comes grouped on reels 2 and 4. When this symbol appears it will substitute for any of the standard symbols other than the scatters. It also triples prizes that it helps create, which makes it one of the best symbols in the game by far.
A Feature Guarantee
Vulcan comes with a special feature guarantee that ensures you get a bonus feature while playing this slot game every 26 to 250 spins at random. So you can't count how many spins it will take to unlock a feature, but you'll always know that it will be in less than 251 total. If you're getting features frequently the guarantee won't matter much, but for the unlucky players that can't seem to hit a bonus this guarantee makes sure you get something. It's important to remember that you need to have the maximum number of lines in order to get the feature guarantee benefit.
Two Random Jackpots
Vulcan is equipped with two different progressive jackpots that are paid out randomly as you play through the rounds of this game. Go through enough rounds and you're likely to win one or the other. They are both randomly triggered and pay out after the reels stop turning if you are the lucky winner. The minor jackpot pays in the hundreds of dollars and the major jackpot in Vulcan pays in the thousands. Both increase in size each time you spin the reels until they pay out, then they will reset down to a lower level once again.
The Bonus Feature
Three or more scatters unlock the special bonus feature that gives you a shot to get up to a 300x jackpot payout and a total of 15 free spins. During those free spins you'll enjoy doubled prize payouts and plenty of opportunities to win big. Vulcan is a good solid slot game with enough features to keep the game interesting for a range of players. It offers decent betting options, though some players won't be happy with the upper end options for the slot. If you like the theme of the slot and you want a good solid game to try out, this one is worth taking a look at.