The Naughty List Slots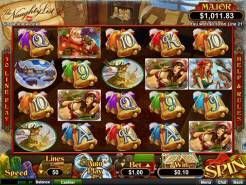 Current Jackpot
$4,284.68
Play Now
If you've been looking for a sexier themed online holiday slot game than what most other casinos are offering, the Naughty List could be just the slot for you. This slot game is all about Santa meeting beautiful scantily clad women and you can use your imagination to fill in the rest from there. The graphics of the game themselves were enough to get our attention with a beautiful redhead and brunette both showing off their ample assets, but good graphics alone don't make a solid slot game. That's why we took some time to look over the Naughty List to see if we could in good conscious recommend the slot to other players. Below are our results.
Betting on the Slot
With 50 different paylines, the Naughty List offers a good range of bet amounts that you can pick and choose from. Not only can you decide on how many of the lines that you want to gamble on, but you can also set the coin value for each one of those individual lines for a very specific bet amount. The upper end bet isn't very high, but you can easily bet as little as $0.01 and as much as $12.50 per spin. That's a good range to work with for most gamblers.
Random Jackpots Abound
The Naught List keeps things interesting with every single round of the game whether you're in a special bonus round or just playing through the standard reels using progressive jackpots. There are two jackpots, a minor and a major, and they can be triggered at any time after any spin of the reels. The minor jackpot pays out in the hundreds and the major jackpot pays out in the thousands of dollars.
Pick a Present Feature Bonus
The Naughty List offers an exciting special bonus round that's triggered by getting three or more of the Naughty List Logo scatter symbols. Once you do that the special bonus round will begin.
In the prize picker bonus game you have to choose from a bunch of different presents to get instant cash prizes or multipliers that will work on the free spin round to come. After you're all loaded up you'll move on to the free spin round going through a series of 5 free spins. During these rounds you'll enjoy additional wilds and scatters and more opportunities to win than ever before.
Lucky Trigger Bonus
There's another bonus in the game called the Lucky Trigger feature and it offers you between 5 and 10 free spins. During this special bonus round you'll enjoy random multipliers up to 10x to help you win as much as possible from this slot game. This bonus round is unlocked randomly after any spin of the reels and gives you a good chance of winning big as you play the Naughty List.
With so many different features to play through on the Naughty List slots, and stunning symbols that will draw in many gamblers, it's hard to argue against this holiday slot game. If you're looking for a sexy slot game for the holidays, this is it.